Ramapo, learning on the fly, picks up its first win by Cory Doviak of northjerseysports.com
FRANKLIN LAKES – With two freshmen starting the in backcourt and with two sophomores also in the starting lineup, Ramapo's girls basketball team is going to get on the job training and its first assignment was a tough one. Ramapo's season opener was on the road in the early time slot against Pascack Valley and while they hung tough, the Raiders could not get over the hump in the fourth quarter and fell by four points.
It did not take long for Ramapo's new generation to face another late game test when it opened its home schedule on Tuesday night against Teaneck, another young side with plenty of potential. Down two with less than six minutes to go in the game, Ramapo got another crack at crunch time and the result was better this time around. Sophomore Lauren Achter's three-point play with 5:25 left in the game pushed Ramapo in front for good and the Raiders outscored Teaneck 19-4 in the fourth quarter to turn a tight game into a 47-34 victory in Franklin Lakes.
"We made a lot of key steals and we made our foul shots. Our defense was working and everyone was into it. We were going after loose balls and that is what won it for us," said Achter, who made 3 of 4 from the free throw line in the final minute-and-a-half. "We rebounded a lot harder in the second half and did well on defense."
The switch to a zone defense limited Teaneck to just two fourth quarter field goals and making 9 of 11 free throws in the final period propelled Ramapo to its first win of the season.
"Free throws kind of cost us the game at PV. We were 7 for 14 and one of the things we have worked hard on the last couple of days has been fouls shots," said Ramapo head coach Sandy Gordon, whose team was a combined 11 of 16 from the line in the game. "We took the air out of the ball a little bit because we were in the bonus and I was going to trust that we could make some foul shots. Honestly, the key was our defense. The zone kind of took them out of their rhythm because we had trouble staying in front of them when we played man."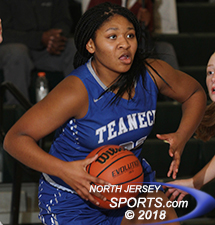 Freshman Rachel Gordon made 3 first half 3-pointers and scored a team-high 13 points for Teaneck (1-1).
The game was nip-and-tuck for the first three-plus quarters and Teaneck, which has just one senior in its starting lineup, seemed to have all of the answers. The Highwaywoman led for all but 45 seconds of the first half as freshman Rachel Gordon had the early hot hand. She nailed two first quarter three-pointers, another in the second and had 11 of Teaneck's 19 first half points.
Kelsy Smith scored four straight points to give the Highwaywomen their largest lead of the game at 19-13 before Savannah Nowak's triple that just beat the halftime buzzer got Ramapo back to within 19-16 at the intermission, but Teaneck was used to beating back challenges.
When Ramapo took its first lead of the second quarter on an elbow jumper by Achter, Gordon hit her third 3-pointer of the first half the next time down the floor to restore Teaneck's lead back to 13-11. When Jenny Amato and freshman Madison Schiller combined to score the first five points of the third quarter to give Ramapo its first lead of the second half at 21-19, it lasted only 16 seconds because Taylor Riddick provided her lone field goal of the game, a three from just to the right of the top of the key.
The teams combined to score on the final four possessions of the third quarter with Ramapo junior Faten Huzien scored four of her six points, including the final two of the quarter that pulled Ramapo to within 30-28 heading into the final period.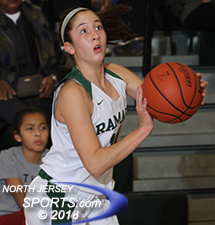 Julia Corella, one of Ramapo's two freshman starting guards, finished with 8 points for the Raiders (1-1).
"That was the last thing I put on the board. We needed everybody to give us something," said Sandy Gordon. "Whether you played 30 seconds or the whole game, we needed to get something from everyone out there and we got that tonight."
Schiller's putback to open the fourth quarter tied the game for the last time at 30-30 and Teaneck took its last lead of the night on Amber Dow's third try putback with 6:32 to play. Achter' three-point play at the other end then kicked off the 17-4 run that Ramapo closed the game with.
"I think we played defense a lot better than we did [against Pascack Valley] and in practice we really worked on our foul shots. That helped a lot," said Schiller, who knocked down both ends of a one-and-one with 1:13 left in the game to push Ramapo's lead into double figures for the first time at 43-32. "We did not want to be 0-2 and we really pushed to get this win."
Ramapo was balanced in its scoring as Schiller and Achter led the Raiders with 11 and 10 points, respectively and they combined for 12 of their team's 19 fourth quarter points. Julia Corella, Ramapo's other freshman starting guard, added 9 points and sophomore Savannah Nowak added 8. Huzien scored all three of her field goals from inside the paint and Amato pitched in with two second half field goals when the game was still in doubt.
Rachel Gordon (13 points) was the only Highwaywoman to reach double figures and Kelsy Smith and Elyssa Russo, who each scored 6 points, did so off the bench. Nahali Tittle Fair Ali and Dow each made one field goal for Teaneck, which is also 1-1 on the season after opening with a home win over Wayne Hills.
"We are a young and talented team. We start a freshman; we have three freshmen coming off the bench to contribute and one senior. Seven graduated from last year's team and we are trying to find our chemistry and our rhythm and our identity," said Brad Allen, who is in his inaugural season as Teaneck's head coach. "It is baptism by fire. Every single night we are going to see a Top 25 team in North Jersey and we have to be prepared. Every night is going to be a fight and that is the way we have to approach it."