Eucker steps on and steps up for Bergen Tech by Rich Barton of northjerseysports.com
HACKENSACK – After the disappointment of a tough overtime loss to currently undefeated Lakeland, Bergen Tech's only remedy was to get back on the pitch for another game. The Knights did just that on Thursday, but had to take the field to start their match with Passaic County Tech without Alianna Eucker, who was kept on the sideline by a uniform snafu. Once that was cleared up, Eucker joined her teammates and immediately made her presence felt.
Eucker took a feed from Georgia Saks and scored just minutes after she entered the game. The sophomore added another goal later in the first half as Bergen Tech's staunch defense made those goals hold up in a 2-0 win over Passaic County Tech in Hackensack.
"It was a little different today but I had a lot of adrenaline going," said Eucker. "As soon as I step on the field I'm ready to play."
Passaic County Tech came into the game looking for its first win of the season and nearly took an early lead. In the game's first 10 minutes speedster Amiah Washington had a pair of left-footed shots from just inside the top of the box. One was saved by Bergen Tech netminder Joella Chase and the other went just wide.
Eucker came onto the field as a sub for the first time in her two-year varsity career but adjusted to the role quickly. Off a long throw-in by Liana Meyer, Saks beat a defender to the ball and volleyed it out of mid-air into space for the streaking Eucker, who was not to be denied. She split two defenders to run onto the through ball before chipping it over PCT keeper Aiden Robinson and in to give Bergen Tech a 1-0 lead.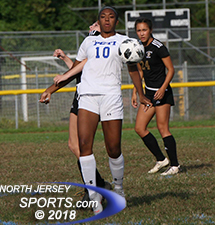 Amiah Washington generated most of Passaic Tech's best chances.
"It's really important to set the tone and score first, it puts pressure on our opponent," said Saks, a senior striker. "On the first goal I was just trying to play the ball into an open space. I was pretty confident when it happened that Ali would get to it."
The Knights continued to pour on the attack following Eucker's goal but Robinson hung tough. In her first-ever appearance in net she made a pair of nice saves to keep the Knights at bay. It was only temporary as Eucker was determined to find the net again. With five minutes to go in the first half, Eucker wiggled her way up the left flank through three defenders before slipping a shot inside the near post to put Bergen Tech ahead, 2-0, at halftime.
"Against a good team with a player as talented as (Eucker), a couple of miscommunications will end up in the back of the net," said PCT head coach Caitlin Kiernan. "We're real young and we're making young mistakes. I thought we shook it off and played pretty well in the second half we just couldn't finish."
The Bulldogs did everything they could do get back in the game and had numerous scoring chances in the second half. They were unable to find the back of the net thanks in large part to the play of Chase and Meyer at the sweeper position. Chase made a diving save on a header in front and Meyer tracked down Washington on a breakaway before she could get off a shot to help the Knights record a clean sheet.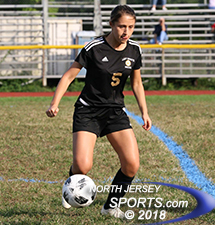 Georgia Saks assisted on the first goal for Bergen Tech, which improved to 4-2 on the season.
Chase made eight saves to notch her third shutout of the season and Jordan Gutierrez added an assist for Bergen Tech (4-2). After scoring 24 goals as a freshman, Eucker has continued her torrid play with 10 goals and five assists in just six games. Robinson handled herself well in net, making nine saves for Passaic County Tech (0-5-1).
With tough games against Northern Valley/Old Tappan and Clifton over the next five days Bergen Tech has a chance to make a statement both in league play and among Bergen County coaches with the county tournament seeding meeting right around the corner.
"This is the best year we've had in a long time," added Eucker. "It is such a big difference from the beginning of last year until now. We communicate better, we distribute the ball better, and it is still a work in progress. Now we've more of a unit and we feel confident we can play well every time we take the field."