Ramapo's renaissance now includes a come from behind County win by Cory Doviak of northjerseysports.com
FRANKLIN LAKES — Ramapo's renaissance as a softball program has been led by a precocious group of sophomores and freshmen that have brought the Green Raiders back to prominence. There are only two seniors on the entire roster, but one of them, Jenna Ribeiro, had the chance to bathe the Class of 2019 in some glory if she could just put the ball in play with the bases loaded and no outs in a tie game in the Round of 16 of the Bergen County Tournament.
"I am honored to be a part of this team. We have some many young players and they really are the future of Ramapo softball, but I am so happy that I got this chance," said Ribeiro, Ramapo's starting second baseman, who fell behind 0-2 in the decisive at bat. "I was just thinking I hope I hit this ball. I felt it hit the bat and I was like, 'I have to go!' I had to stay out of a double play and I had to hope that [Kyra Manfredi] made it home before the ball did."
Manfredi, a pinch runner for Victoria Cunningham, who led off the bottom of the seventh inning with a single, did beat the play at the plate. The official scoring was open to interpretation, but whether Ribeiro's grounder to third base was scored an error, a fielder's choice or even an infield single, it was the final link in the chain of Ramapo's comeback.
The Green Raiders, the No. 5 seed, fell behind by four runs in the top of the first inning and were down by three runs after three innings, but stormed back with six runs in their final three turns at bat to pull off a 7-6 victory on Tuesday afternoon in Franklin Lakes. The quarterfinals will be an in-district affair as Ramapo will face sister school Indian Hills, the No. 4 seed, on Saturday at Overpeck Park in a noon start.
Teaneck, the No. 12 seed, is a dangerous opponent for any team because it plays loose and it is aggressive in its offensive approach. Because the Highwaywomen work pitch counts, take their walks and then attack when they get on the basepaths, they can force defenses into mistakes and that is exactly what happened in the top half of the very first inning. Two Ramapo errors and three bases on balls gave Teaneck four unearned runs and a 4-0 lead that grew to 5-0 in the top of the third when Kayla Ventura raced home from third on a wild pitch.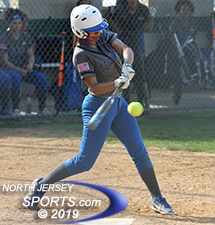 Kayla Ventura had two hits and scored two runs for Teaneck, which led 6-1 after four-and-a-half innings.
Everything that could go wrong did go wrong early and before Ramapo could start its comeback, it needed to stabilize the game. Freshman Jenna DeLuccia jogged in from left field to the pitching circle with two outs in the top of the third and gave the Raiders exactly what they needed. DeLuccia threw 4 1/3 innings of one-run relief. She struck out five, gave up four hits and three walks and battled for every inch against Teaneck's potent bats.
"I have full trust in [starting pitcher] McKenna [Lont]. She has been great in the circle all year, so being called on to go in I was a little nervous, but I knew I had to do a job for my team and that is what I tried to do," said DeLuccia. "I was just trying to throw strikes and get outs. As soon as we got out of that inning, the first one that I pitched, we all settled down.
Ramapo crept back into the game in the bottom of the fourth inning when Mikayla Shepard, another freshman, blooped a bases loaded single into short left field to score Macy Eglinton-Manner with the Raiders' first run. Teaneck caught a break with one out and the bases still loaded when a Ramapo baserunner lost track of the outs and was doubled off on an infield pop-up that allowed the Highwaywomen to escape the with a 5-1 lead, but the Ramapo comeback was already underway.
After Teaneck got its final run via a two-out triple by No. 9 hitter Sydney Amaro in the top of the fifth to take a 6-1 lead, Lont (1-for-4, RBI, R, 2B) provided Ramapo with its first extra-base hit, a one-out double in the bottom of the fifth that scored Savannah Ring (1-for-3, R, BB), who led off the frame with a single.
And then Eglinton-Manner crushed one.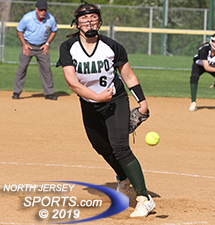 Jenna DeLuccia threw 4 1/3 innings of one-run relief for Ramapo, which will play sister school Indian Hills in the quarterfinals on Saturday.
The sophomore first baseman who hit a two-run home just one day earlier to beat Clifton, did it again. Eglinton-Manner (3-for-3, HR, 2 RBI, 2 R) hit a two-run bomb to centerfield to cap the three-run outburst that got the Raiders back to within 6-4 and they had momentum on their side.
"I felt like something had to be done. We were down a little bit, even our body language was down, and something good needed to happen to get us going. We are such a young team and our inexperience sometimes affects the whole team," said Eglinton-Manner, who is as eloquent in postgame interviews as she is dangerous in the batter's box while the game is being played. "I have been working on being very aggressive. Everybody has to work with nerves and for me I am hoping to reach the point where I can just go to the plate and think of nothing. That is hard, but I am trying to reach the point where I can just think about hitting the ball and have confidence in doing it."
DeLuccia pitched out of a two-one, two-out situation in the top of the sixth and then got the game-tying rally started in the bottom of the inning with a leadoff double to right-center. A walk to the next hitter forced Teaneck into a pitching change and pinch hitter Brennan Tosney greeted the new arm with an RBI double. An throwing error with two outs allowed the tying run to score as the game moved to the seventh inning all square at 6.
Teaneck (9-10) went down in order just twice in the game, but the second time hurt as DeLuccia worked a 1-2-3 top of the seventh before Cunningham (1-for-3) and DeLuccia (2-for-2, R, 2B, 2 BB) supplied back-to-back singles to start the bottom of the seventh. Shepard tried to bunt both runners up a base, but wound up with more when he beat the play at first base to load the bases for Ribeiro, who hit one hard enough up the third base line to make it a do-or-die play for the drawn-in infield.
The throw home was late and the celebration was on for Ramapo, which is one of eight teams left in the Bergen County Tournament, which is all of a sudden wide open after top-seeded IHA bowed out in the Round of 16.
"I think we are on the uptick, but we have to keep working because you can never be complacent and you can never be satisfied with where you are at," said Eglinton-Manner. "With such a young team we have a lot of opportunity to keep working so that we can put ourselves in the position to flourish in the future."