Who Knew?  Pascack Valley wins sectional title by Cory Doviak of northjerseysports.com
HILLSDALE – Sofia Battista dominated the paint in the second half and also kick-started the offense by sneaking behind the defense a couple of times. Kelly Andreasen made three three-pointers, Paige Skene flew around the court and Olivia Jones did the little things. Those four Pascack Valley starters were nowhere near the playing surface during last year's North 1, Group 3 state sectional final, a championship game that the Indians were supposed to win but did not.
On Monday, after a 36-31 victory over Northern Highlands, those four, plus Brianna Smith, the lone-holdover from last year's team and the Group 3 state title team of 2017, were lifting the state sectional tournament trophy on Jeff Jasper Court inside Pascack Valley High School in Hillsdale.
The turnabout just about left the all-time winningest coach in the history of girls basketball in New Jersey speechless. It was all he could do to try to come up with an explanation.
"Who knew?" was the question that the guy who the court is named after in a postgame interview kept asking.
"It's just that we were in the right place at the right time. Who knew this would happen?" said Jasper. "The headline is Who Knew?"
As the No. 2 seed in the bracket, Pascack Valley made a methodical march to the title. It's point production went down with each passing round, but so too did its points allowed total and on Monday it held Northern Highlands, the No. 4 seed, to just 10 made field goals in the game, five in each half. The Indians did not exactly set the nets on fire either, but four of their five first half field goals were three-pointers and they led by a single point after both the first and second quarters.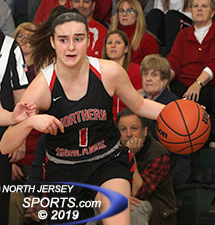 Senior Breanne Davis scored all of her team-high 11 points in the second half for Northern Highlands, which finished the season with a 16-13 record.
Pascack Valley was up 14-13 at halftime, but fell behind 22-18 after back-to-back three-pointers by Breanne Davis, Highlands' senior point guard, late in the third quarter.
It was time for PV to unveil its secret weapon.
Battista, the junior center who spends most of her time in and around the painted area rebounding and changing shots, beat everyone down the floor twice in a row for transition layups that got the Indians back even at 22 heading into the fourth quarter.
"That was surprising. I personally think that I am very slow, but I had to be fast. On both of those [fastbreaks] I knew I had to score because the game was so close and we needed those points," said Battista. "I just had to push myself harder to get down to the other end of the floor and make those layups."
Battista scored in a more traditional manner for her by crashing the offensive glass for the first points of the fourth quarter. That gave Pascack Valley the lead for good and Smith, the senior guard, made it stick with a three-pointer on the Indians' next possession to make it 27-22 with 7:00 left in the game.
"We started out slow today, but we made a huddle, we all put our arms around each other and we said this is not us. It was time that we put it together and played like a No. 2 seed," said Smith, who will play at Bloomsburg University next season. "We wanted this so bad and we found our confidence. We were feeling it at the end."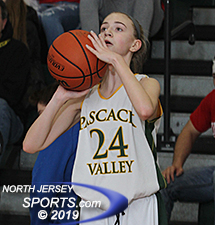 Kelly Andreasen made three 3-pointers and finished with 10 points for Pascack Valley, which will play Chatham in the Group 3 semifinals on Wednesday.
Davis made a steal and a layup to make it a one-possession game for the last time with 6:21 to play, but Battista got free in transition once again to push the Indians' lead back to five at 29-24 and it would be nearly four minutes of game time before either team scored again. By that time the clock had ticked below two minutes and all that was left for Pascack Valley was to make some free throws.
Smith went 6-for-6 from the line in the final 1:43 and her two from the stripe with 25 seconds left gave Pascack Valley its largest lead of the game at 34-25. Morgan Micallef and Davis, the two seniors that instigated Northern Highlands' inspired postseason run, each made three-pointers in the final 12 seconds of the game to give their careers one last exclamation point.
"The run was terrific and I did not want it to stop. I didn't sleep much, but I wouldn't trade it for the world. That is what happens with these runs, though, you are so invested and enjoying it so much and then one day you go out and get punched and it ends. It just wasn't meant to be and my hat is off to Pascack Valley and Coach Jasper. He is a master," said Northern Highlands head coach Rich Micallef. "We never really found our chemistry until the end. Before this run happened we had lost 7 out of 9 games, but I saw the spark and we got here. Nobody expected this and I am proud of this team. I love these kids."
Davis scored all of her team-high 11 points in the second half and Micallef added two second half three-pointers to finish with 8. Anna Sciuto (7 points) and Kelli Kuenzel (5) rounded out the scoring for Northern Highlands, which finished the season with a 16-13 record.
Smith led all scorers with 14 points, Battista and Andreasen added 10 apiece and Skene made a third quarter field goal for Pascack Valley (22-8), which has now won 14 state sectional titles in 46 years under Jasper. The Indians are two wins from Jasper's seventh state championship and will play North 2 champion Chatham on Wednesday in the Group 3 state semifinals at Ramapo High School.
"I think this is really cool. A lot of people doubted us at the beginning of the season and we have been able to play as the underdog no matter who we were playing or where we were playing them," said Andreasen, who made three of the Indians' five three-pointers. "I am really proud of this whole team. To come this far and to win it is an amazing feeling."