Gonzalez tops 1,000 points in Old Tappan's playoff opening win by J.C. Baumuller special to northjerseysports.com
OLD TAPPAN – Northern Valley/Old Tappan, the defending champions of Group 3, got off to a good start in this year's tournament with an 80-40 trouncing of West Milford in the North 1, Group 3 opener on Tuesday afternoon.
"It's a starting point for the state playoffs," said Knights coach Brian Dunn. "We're fortunate enough to be in a home game in a good situation. Our kids played well. There is no tune-up in the playoffs. Every day is a new day. There is no carryover."
"I think it's all a learning experience," added senior Jaclyn Kelly. "We know coming out of this game the next game we play is going to be harder. We come in and see the things we didn't do so well. We have to fix them in practice tomorrow to get ready for Thursday's game."
Old Tappan ran out to an 11-0 lead in the first three minutes of the game and never looked back. Senior Noelle Gonzalez took a pass from fellow senior Megan Weis for an easy layup to get things going. Four minutes later Gonzalez tallied her sixth point of the game on a free throw. It was also the 1,000th point of her high school career.
"I actually didn't really know [how many points I needed for 1,000]," Gonzalez said. "My teammates are good liars. I knew I was close, but I didn't think I'd be getting it today. I didn't want to think about it because I figured if I was thinking about it too much I wouldn't be focused on the big picture and winning the game."
Kelly, who scored career point 1,000 a few weeks ago, hit four threes and added a field goal to finish the quarter with 14 points as Old Tappan pulled away.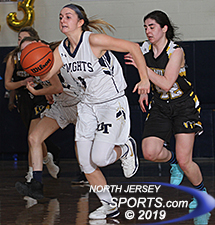 Jackie Kelly hit four first half 3-pointers for Old Tappan, the defending Group 3 state champion.
"It helps when I make a couple in a row," Kelly said. "I know I'm not on the floor only to shoot threes. Since it is one of my strong suits I try to and my team tries to put me in that spot a lot. It helps when I'm shooting well."
Dunn was asked about having two 1,000-point scorers on the same team.
"I've never had that but it's a tribute to those two kids," he said. "They were both JV players as freshmen so they did it in three years and did it on good teams with good players around them. Both of them were consistent through three years. Their point totals are relatively the same which means they're not forced to do too much or too little. They just play their game and stay within themselves. They show up and do what they're supposed to do and bring their best effort."
West Milford finally scored its first basket of the game on a coast-to-coast layup by junior Ashley Jacobs but Old Tappan took a 29-4 lead into the second quarter. Gonzalez got hot in the second quarter, collecting eight more points to go along with her six points in the first quarter. She finished with 20. Fittingly, Kelly also tallied 20 points in the game.
"Noelle and I have been playing sports together since we were young," said Kelly. "I'm not shocked that we both have 1,000 points. We push each other hard in practice and it's a team effort why we have 1,000 points. It's not just us. Everyone else rebounds, passes to us. It's great we can both have it in the same season, within a month of each other."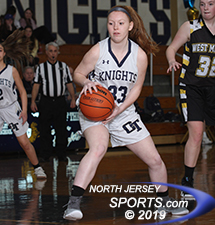 Junior Lauren DiGennaro provided a lift off the bench for Old Tappan, which will host Montville in the quarterfinals on Thursday.
Gonzalez and Kelly complement one another as Gonzalez scores most of her points by driving to the basket while Kelly's scores most of her points from the outside.
"If we're playing against taller teams," Gonzalez said, "and I can't get it up Jackie is always outside so I can kick it out. If Jackie or other players are being face guarded outside we can always drive it to the basket in the gap."
Sophomore Isabella Giampaglia came off the bench to hit a three and a field goal and the Golden Knights extended their lead to 50-17 for the halftime intermission.
The Knights lost their two bigs on last season's team to graduation last June. As a result the team is playing a different style of basketball this season.
"We try to stick to the same fundamentals and same basics but our style of play changed," said Dunn. "When you take two 6-foot kids off the floor and replace them with kids who are 5-7 you're playing a different style game. We try to play hard and play great 'D' regardless of who we have on the floor."
"It's all speed and effort," added Kelly. "We knew coming into this year we weren't going to have height. Noelle is our tallest girl and she's 5'8. That's why in practice we work on running a lot and speed to beat our opponent up and down the floor every time."
In the game 12 different Old Tappan players scored at least one point. The Golden Knights will play Montville at home in the next round of the playoffs Thursday. It is a team they have not played this season, a team they are unfamiliar with.
"I think it's definitely a challenge," Gonzalez said. "We watch a lot of film and that helps. In practice we're always working to prepare ourselves the best we can for the next game. Even if we win a game like this we can't dwell on it. We have to start fresh and start focusing on the next game so we're ready and not still celebrating the last win."
"In the locker room we talked about how it was a great team win but we're not done," added Kelly. "We have to come into practice tomorrow and work on what the strong suit of the next team is and find ways to break them down and find ways for me to get my shot, Noelle to get her shot. Everyone has to be able to work well on offense and defense."