Sullivan turns a negative into a Ridgewood playoff win by Cory Doviak of northjerseysports.com
RIDGEWOOD – DJ Sullivan stepped onto the floor and walked right into a nightmare. So focused on the tight game against Kennedy in the quarterfinals of the North 1, Group 4 state sectional tournament. Caught up in the atmosphere of state tournament game being played in front of a packed home gym, Sullivan did not pay enough attention to the protocol of checking in to a high school basketball game.
"I was just trying to get into the game, but they didn't buzz me in and when I got out there we had six guys on the floor," said Sullivan. "They called a tech and they got two free throws."
It could not have happened a worse team, or so it seemed, for Ridgewood, which had just seen Jeshuel White's three-pointer draw Kennedy to within two points and then Germir Robinson tied the game with the two technical free throws with 4:44 left. Not only that, but Kennedy was also awarded the ball with a chance to go in front.
And then Sullivan turned what could have been the worst sequence of his basketball life into one he will remember forever for all of the right reasons. Sullivan ended Kennedy's extra possession by dispossessing a ball-handler at the top of the key then picked up the loose ball, drove to the hoops and felt two defenders pursuing from behind. Sullivan got the chase pack into the air with a fake and then dropped a pass to Matt Favieri, who made the layup with 3:42 left put Ridgewood back in front for good in a 51-45 victory that moves the Maroons into the semifinals.
"I did not want to let my guys down. I did not want our seniors to lose their last game because of a stupid play like that, so I knew I had to get it back," said Sullivan. "I really turned up the defensive intensity, I got [the ball] back and we got a layup out of it. I feel like that flipped the momentum, really."
Favieri was the beneficiary as he saw Sullivan's steal unfold and hustled to get himself into the play.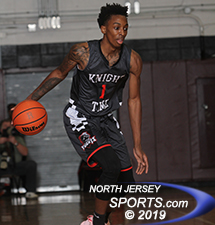 Avante Glibert finished with 10 points for Kennedy, the Passaic County champion.
"We just had to get recomposed. DJ knew he made a mistake, but he got his head right back in the game and did his job. He made up for it," said Favieri. "I knew I had to get up the floor and be the trailer because if [Sullivan] was going to take the layup I had to be there for a rebound or if he needed a place to pass it I had to be there. That is what he did and I was there. It was a great play and pass by him."
State playoff games often come down to a play here or a play there and Ridgewood head coach Mike Troy saw Sullivan turn a tough circumstance into the game's positive turning point for the Maroons.
"What I am most proud of is the kid who got the technical [Sullivan] is the kid who made the steal, who got the assist on the go-ahead layup and his next four plays even after that…he made something really positive out of something negative," said Troy. "We preach that all the time hoping that it will work and in the biggest moment of [Sullivan's] career he did. That says a lot about the mental fortitude of this team."
The teams were step for step just about all night long. Neither had more than a six-point lead through a closely contested first half. Avante Gilbert scored 8 of his 10 points in the first quarter and his jumper from the corner gave Kennedy a 14-12 lead after the opening period. Ridgewood responded with an 8-0 run to start the second quarter. Tristan Wennersten's three from the wing gave the Maroons the largest lead of the first half at 20-14 and he put back a third-chance opportunity to close the first half scoring with Ridgewood ahead 22-17.
Kennedy's Jalen Hargrove made his only field goal of the game to tie the score at 28 with 2:33 left in the third quarter before Ridgewood made a big to pull away. Favieri's step-in jumper kicked off a 7-0 run that was only broken by DeJourn Cook's two free throws that got Kennedy back to within 35-30 after three quarters. Favieri scored off an inbounds play and Bryce Dawkins turned the corner for his lone bucket of the game, a clutch layup that put Ridgewood up 39-34 with 5:44 left to play.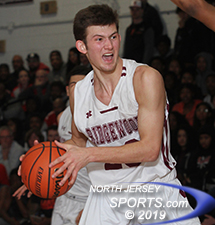 Matt Favieri scored a game-high 16 points for Ridgewood, which will host Hackensack in the state sectional semifinals.
Then came White's three-pointer, Robinson's technical free throws and Sullivan's steal and assist that turned the game in Ridgewood's favor for good. The Maroons made 16 of their 21 free throws in the game, 13 of 18 in the second half and 7 of 8 in the final minute to maintain their distance. Favieri made his last four and Davis Oscher made two with 13 seconds left to bump the lead up to seven and put the game away.
Favieri (16 points) and Oscher (15 points) led the way for Ridgewood on the offensive end as the pair of seniors combined to make four of the Maroons' five three-pointers, two apiece. James Miller held Ridgewood get off to a solid start with 6 first quarter points, Wennersten scored all 5 of his points in the second quarter, Ben Geraghty added 4 points each, Dawkins and Devin Johnson chipped in with 2 points each and John Kearny's fourth quarter free throw rounded out the scoring for Ridgewood.
White made all three of Kennedy's three-pointers against Ridgewood's active zone, which set up quickly and kept the Knights from making it an up-and-down game. Glibert finished with 10 points as, after his fast start, he was slowed by second half foul trouble.  Cook added 8 points, Tyrell had 6 and Abrams and Hargrove finished with 4 points each on a tough night for Passaic County's top boys basketball teams.
Clifton, the No. 1 seed in the bracket and a Passaic County Tournament finalist, was upset at home by No. 9 Hackensack and Kennedy, the Passaic County champ, exited as well. That leaves Union City against Fair Lawn on one side of the bracket and Ridgewood against Hackensack on Friday with a trip to the section final on the line.
The Maroons, who swept the season series against Hackensack, will be at home and have a pretty good grasp of the possibilities that lie in front of them.
"It's a great opportunity. We have a chance to win a section championship and there is nothing like it," said Sullivan. "If you look at the banner over there we have not won one since '05. We want to put 2019 on that banner."