Burek's fast start fuels Fair Lawn by Rich Barton of northjerseysports.com
FAIR LAWN – With the state tournament now in full swing, every game is the same scenario. Win and move one step closer to a section title; lose and the season comes to an abrupt end. With that in mind and the opponents becoming tougher with each passing round Fair Lawn head coach Kyle Sabella sent a message to his team that getting off to a good start each game from here on out is just as important as finishing strong. Thanks in large part to John Burek the Cutters got the message loud and clear.
The Cutters set the tone by coming out on fire right from the opening tap. They hit their first six shots, four of them from Burek, and three of those from three-point range as second-seeded Fair Lawn grabbed an early lead and never trailed in an 82-65 North 1 Group 4 quarterfinal win over No. 7 seed Bergen Tech on Wednesday night at Fair Lawn High School.
Burek fired shots from three-point range on the Cutters' first three possessions and none of them touched so much as the rim on the way through. Or Sundjveysky added a three from the top of the key to keep the ball rolling. By the time Burek hit his second driving layup, it was just 2:11 into the game and Fair Lawn already held a 16-3 lead.
"It felt amazing and the crowd really got us going," said Burek. "We worked the ball around, we got open shots and we knocked them down. With the shooters we have we're more effective when we move the ball."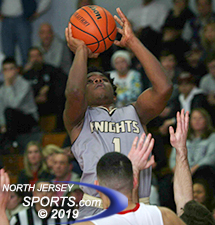 Brian Ibeabuchi finished with 18 points for Bergen Tech, which finished it season with a 16-8 record..
It looked as if Bergen Tech weathered the initial storm. Marc Martinez scored 10 points in the second quarter with the last of those coming on a corner three to trim the lead all the way down to four points. Fair Lawn gained some control back with four free-throws in the final minute of the half to double that lead to eight halftime, 35-27.
"It was frustrating because we had a chance to really create some distance before the half," said Sabella. "We made some adjustments at halftime and Darius (Sokikish) did a great job on Martinez in the second half."
A three from Ryan Jordan got it down to seven but the Cutters stretched out the lead from there. Burek had eight third-quarter points to bump the lead up to as high as 17 points and it remained in double-digits for the final 12 minutes of regulation.
"It's the state tournament, we can't take our foot off the gas against anyone," said Sundjveysky. "It hasn't been like this In Fair Lawn in a long time. The crowd gave us a lot of energy and we fed off of that."
The play of Martinez and Brian ibeabuchi kept the Knights from the getting blown out. Edwin Muniz and Sundjveysky combined to go a perfect 10-10 from the foul line in the fourth quarter as Fair Lawn advanced to the North 1 Group 4 semifinals.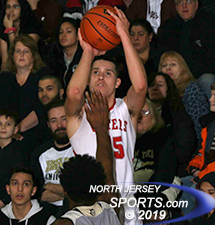 Or Sundjyvsky scored 13 points for Fair Lawn, which will host Union City in Friday's semifinal round.
Burek finished with 10-13 from the floor to net a game-high 29 points for Fair Lawn (22-3). Muniz and Sundjveysky scored 16 and 13 points, respectively. Darius Sokikish added nine points, six assists, and five rebounds along with solid on-the-ball pressure all game long.
Martinez closed with 26 points and Ibeabuchi added 18 for Bergen Tech (16-8).
With No. 9 seed Hackensack eliminating top-seeded Clifton in North 1 Group 4, that means the Cutters will play the section final on their home court if they can win in the semifinals. That will be no easy task though when they take on third-seeded and this year's Hudson County champion Union City on Friday night.
"The crowd is going to get us hyped but we have to stay composed," added Burek. "We want to enjoy the atmosphere but we can't let it pump us up too much or the game can get away from us. We know they're a very good team. It's going to be a great game, a physical game, and we can't wait."