DePaul comes out of nowhere to win Passaic County title by Rich Barton of northjerseysports.com
WAYNE – Seasoned high school basketball coaches are well aware of what a grind the season can become. When they see their players working hard every single day it keeps their fire ignited towards two goals. One is to put together a perfect stretch of play where everything that has been practiced just naturally flows. The other is to take an underdog team and lead it to a championship.
With two losses in the week leading up to the Passaic County Tournament final, it did not seem likely that DePaul Catholic head coach Dave Andre would experience either of those let alone both of them in the same game.
Needing monster comebacks to pull upsets in the county quarterfinal and semifinal rounds, the Spartans were up against it in the final playing the defending PCT champ, Wayne Valley, on its home floor. But Andre believed that this team had that championship drive in them and the ability to pull it all together. At the perfect time that is what happened in a flawless first half.
DePaul shot a blistering 68-percent (15-of-22) from the floor in the first half, led by junior guard Ava Peiser. Although she was the smallest player on the floor she came up huge, hitting all six of her first half shots, including a trio of three-pointers, as fifth-seeded DePaul grabbed a 25-point halftime lead and finished off a miraculous run to win its first Passaic County title since 2013 with a 61-45 victory over second-seeded Wayne Valley.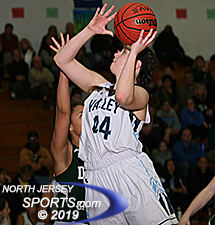 Brianna Neary scored 14 points to lead Wayne Valley.
"I saw the look in their eyes coming into this game and even though we lost a few games this week our confidence was sky high," said Andre. "Wayne Valley is an awesome team with a tremendous coach, but we felt like we were ready for the opportunity in front of us. Everybody was aggressive, everybody was unselfish and things just flowed on both ends of the floor."
To call DePaul an underdog heading into the PCT final was quite the understatement. The Spartans trailed by eight in the fourth quarter to Hawthorne and by 11 to top-seeded Lakeland with five minutes to play before pulling out victories just to reach the county final. That euphoria faded with losses to sub .500 squads Cliffside Park and Holy Angels during the week leading up to the showdown with Wayne Valley.
DePaul standout point guard Deziah Gonzalez was able to break down the Indians' defense and find the open shooters. Peiser was the beneficiary early started with a three from the corner on her first touch of the game. She added three more shots from the floor, including a three, and a pair of free-throws to score half of the Spartans' 24 first-quarter points. It was the Spartans' highest scoring quarter of the season and the most points Wayne Valley had allowed in a quarter all season.
"I was so nervous when I woke up this morning but I had so much support that I knew I had to have a good game," said Peiser. "Once I hit my first shot I started to gain confidence and it just took off from there. We've been the underdog since the start of this county tournament so we wanted to prove that we belonged here."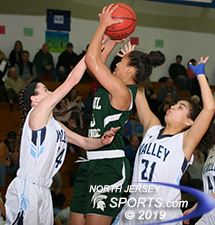 Deziah Gonzalez finished with 20 points for DePaul, which won its first county title since 2013.
As impressive as that eight-minute stretch was the Spartans followed that up with an even more dominating display in the second quarter. Five different players found the scoring column, led by six from Kayla Gonzalez and five from Riley Sikorski. But it was their defense that proved to be a difference-maker. Wayne Valley did not hit a single shot from the floor during the second quarter with DePaul using a massive 20-3 run to take a commanding and utterly surprising 44-19 lead at the half. To put it in perspective Wayne Valley, one of North Jersey's most stout defensive units, had allowed just 20 points or more in a quarter twice the entire season. DePaul matched that total in just one half.
"We were all sharing the ball and knocking down shots from everywhere, it was really an explosive first half," said Gonzalez. "We wanted to set the tone right from the jump. We shot the ball really well but it starts with our defense and keeping them off the boards."
Three minutes into the third quarter Deziah Gonzalez hit a pair of free-throws to give the Spartans their largest lead, 52-22, before she picked up her third foul and the Indians made one last push.
Victoria Falso and Brianna Neary scored inside followed by a layup from Stephanie LaGreca during a 13-0 run. Falso hit a free-throw to slice the lead to 14, 55-41, with 5:58 left in regulation. Well versed in how to make a fourth quarter comeback the Spartans also showed they know how to prevent one. She scored just two points in the fourth quarter, but Deziah Gonzalez's steady hand at the point quelled the run and lifted the Spartans to their first county title in six years.
Deziah Gonzalez finished with 20 points and Peiser added 19 to lead DePaul (11-11). Kayla Gonzalez added 11 points, three steals, and three assists. Neary had 14 points and Falso added 11 for Wayne Valley (17-6).
The season and the Passaic County Tournament in general has been a roller-coaster ride for Andre and his squad, but when it ends with lifting a trophy all that hard work pays off.
"We always knew we had the pieces but it was a matter of putting it together in the big games," added Andre. "We were fortunate to do that four Saturdays in a row against tough competition. The kids worked so hard, you can't come into our gym and not see how much effort they put into this. I'm so proud of their effort and they deserve to enjoy being county champs."