Hackensack takes BIT title by Cory Doviak of northjerseysports.com
MONTVALE – It's not exactly a place you expect to find the Hackensack boys basketball team. Perennial contenders for league, county and state sectional title, the Comets are the reigning North 1, Group 4 champions and one of Bergen County's blueblood programs. But there they were on Saturday night in the championship game of the Bergen Invitational Tournament having missed out on a spot in the Jambo when they were below .500 at the cutoff.
Instead of pouting, Hackensack entered The BIT with the intention of winning the thing and that is what it did on Sunday at St. Joseph Regional in Montvale. Junior Seth Sharif-Brown scored 19 points in the first half and the Comets flirted with a second half blowout before hanging on for a 76-73 victory over Paramus Catholic.
"We graduated seven seniors from last year's team and they had been playing since their freshman or sophomore years, so this is a whole new group and we are still young. There are only a couple of seniors [Jelani Carter and Isa Brown] on the team," said Hackensack head coach Aaron Taylor. "The first half of the year was a learning process. We have talent, but we had not had the experience of playing at the varsity level against very good coaching, preparation and planning, so we were 5-7 at the cutoff for the county tournament. That said, our kids did not look at this tournament as a punishment. It was an opportunity to continue play, get more games under our belt and to get ready for the states. And I think they wanted to win it."
Kevin Mateo certainly looked like he came to win when he scored the first five points of the game to get the Comets rolling, but Paramus Catholic battled back to turn the first half into an entertaining back-and-forth affair. Hendrick Ambroise's three-pointer with 2:17 left in the first quarter got PC even at 12, Cameron Burns' triple gave the Paladins the lead and they would carry a 19-16 advantage into the second quarter, which was owned by Sharif-Brown. Hackensack's talented junior forward scored 15 of his teams' 24 points in the period and the Comets went into halftime with a 40-31 lead.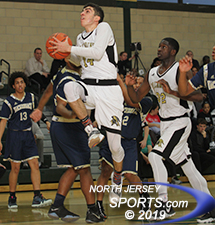 Paramus Catholic senior Cameron Burns finished with a game-high 26 points.
"Since we got kicked out of the county 'chip, the Jambo, we had to take our opportunity to get the dub in The BIT," said Brown, who was a big factor on the same floor in 2017 when Hackensack won the freshman county tournament. "Coach has been pushing us in practice and we came out with a lot of energy. I had to come and score and get everybody going."
Mateo's coast-to-coast lay-up that turned into a conventional three-point play bumped Hackensack's lead up to 52-39 with 2:36 left in the third quarter and it had a 56-48 lead heading into the fourth, but the final period turned into a little bit of that no-man's land where the Comets were caught between trying to burn some time while staying aggressive. It is a delicate balance.
"We had a lead and we were trying to run a little clock, but I don't think we are that good at it. It kind off takes our edge off when we pull it out," said Taylor. "I wanted them to spread it out, but not to hold the ball. We weren't trying to stall, but we definitely had a let-down on both ends that let them back into it a little bit."
Mateo made two free throws 1:02 into the final period to put the Comets up 62-53, but that was where the momentum swung in Paramus Catholic's favor. Burns, PC's senior guard who went for a game-high 26 points, scored six straight points, the last three on a jumper from the wing that cut the Hackensack lead to 62-59 with 3:45 to go.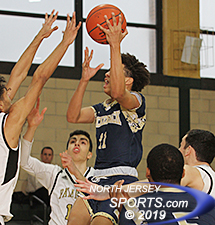 Kevin Mateo finished with 23 points for Hackensack, which will open the state tournament on the road at Livingston.
The Comets, however, stabilized the game from the free throw line as Amire Walker and Mateo went a 4-for-4 on consecutive trips and Hackensack was 8 of 10 from the stripe in the final 3:15 to maintain its distance.
"We gave up 40 points in the first half, 20 to Seth Brown, which really hurt us. We did not play any defense in the first half and that is tough to recover from," said Paramus Catholic head coach Mike Doto, whose team is now 11-13 on the season. "Give Hackensack credit. They played hard, they played fast and we were getting mixed up in a lot of our coverages. We waited too long to make the adjustments, but we did make a little run at the end. We just missed too many layups and too many foul shots. We shot 60 percent from the foul line and we missed a bunch of chippies down low that hurt us. We played hard, we just didn't do enough to win the game."
Burns, Ambroise (18 points) and Jordan Morris (12 points) all finished in double figures for PC, which will now head for the brutal Non-Public North A state sectional tournament bracket where it is the No. 9 seed with a first round road game against No. 8 Delbarton. The winner of that one will get a shot at top-seed and Bergen County champion Bergen Catholic in the quarterfinals.
Brown (24 points) and Mateo (23 points) did the heavy lifting for Hackensack, which got 9 from Carter and 7 apiece from Walker and Neftali Valentin. Isaiah Spain and Cameron Taylor split the other 6 points for the Comets (14-12), who will travel to Livingston for their state tournament opener as the No. 9 seed in North 1, Group 4.