This time, Bergen Catholic leaves no doubt by Cory Doviak of northjerseysports.com
HACKENSACK – When Bergen Catholic visited Ramapo for a regular season match last month, both teams learned something. The Green Raiders found out that they could play with a non-public power, while BC learned that it is not wise to let teams hang around in games without dropping the hammer when given the chance. The first time around, Bergen Catholic had a 14-point lead heading into the fourth quarter before Ramapo rallied to get all the way back to within two points before falling short.
Bergen Catholic was not about to make the same mistake in the rematch played on Sunday in the semifinals of the 63rd Annual Oscar F. Thompson Memorial Bergen County Jamboree. Round 2 went considerably more in BC's favor.
Jason Earle, who lives in the Ramapo-Indian Hills sending district, hit a three-pointer for Bergen Catholic to account for the first points of the game and the Crusaders never looked back. Bergen Catholic led nearly wire-to-wire in a 63-37 victory that puts it back in the Jambo final for the third straight year.
"To be honest, it is a respectful rivalry, but on the court it has to be war," said Earle. "I knew pretty much all of them growing up, even [Northern Highlands transfer] Neal [Quinn]. I was playing with him back in fifth grade. I had to get that one dagger in and that got us going."
At 0-0 and at 5-5 were the only times that Ramapo did not trail in the game Max Pernetti scored off a cut to the basket off an assist from Quinn three minutes in to tie the game for the last time. At the other end of the floor, Doug Edert drilled a three-pointer from the corner to kick off a 7-0 run that put Bergen Catholic in control for good. The Crusaders led 18-9 after the first quarter and 32-15 at halftime of the tightly officiated game on the big floor at Fairleigh Dickinson University.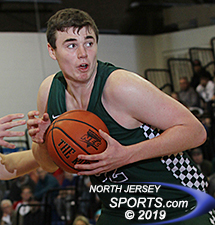 Neal Quinn scored a team-high 12 points for Ramapo, which fell to 20-3 on the season.
"I think the big floor hurt us a little bit. Their guards were able to get in gaps and we did not make any shots, which really killed us. We have not struggled like that offensively all year," said Ramapo head coach Joe Sandberg. "You might be able to get away with that against some teams, but against a team like Bergen you are going to have to put the ball in the basket and do it consistently."
Both teams were hindered by foul trouble. In fact, inside the first minute of the second half Ramapo's KC Hunt and Kyle Hroncich and BC's Matt Zona each picked up their third personal fouls. The difference in depth became apparent as BC just kept rolling guys off the bench and just about all of them contributed, none more so than freshman guard Will Richardson, who outscored Ramapo's bench by himself, 14-7.
"It seems like our team has come together. Our guys that came off the bench – Will Richardson, Justin Regis, Jason Larranaga, Jahsiem [Davis] – they all came in and made a positive impact," said Bergen Catholic head coach Billy Armstrong. "With the way we play in terms of our fullcourt offense and fullcourt defense, we can't play five guys. We are getting to the point where we have nine guys playing and our bench kids are doing really well for us."
Bergen Catholic led by as many as 19 in the third quarter, was ahead 45-28 heading into the fourth quarter and then had Zach Freemantle go off in the fourth quarter to make sure that there was no Ramapo comeback this time. Freemantle, the 6-foot-8 Xavier University commit, scored 8 of the first 10 points of the final period including four on consecutive dunks, one while following up a missed shot and the other on the fastbreak.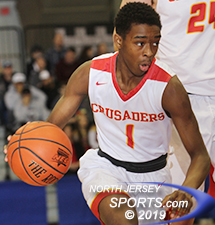 Freshman Will Richardson came off the bench to score 14 points for Bergen Catholic, which will play Don Bosco Prep in the county final for the third straight year.
Freemantle finished with a game-high 19 points, Richardson was next with his 14 and Edert made it three Crusaders in double figures with 11 points. Zona scored all 8 of his points in the first half. Quinn (12 points) was Ramapo's only double-digit scorer while Pernetti, Hunt, Hroncich and Chris Valvano all finished with 6 points. Valvano hit a pair of fourth quarter three-pointers, the only two that the Raiders made in the game.
This loss hurts, but it is not the end of the road for Ramapo (20-3), which is the No. 3 seed in the upcoming North 1, Group 3 state sectional playoffs.
"We don't play anything for fourth place, so our mindset was to come in here and win this tournament. I am pretty sure I have a locker room full of guys that are disappointed in the way this turned out," said Ramapo head coach Joe Sandberg. "At the same time, we have not lost to a public school all year. Our goal hasn't changed. We have not won our section since I have been here and we are going to put our best foot forward. This one stings, but we will be all right."
For Bergen, it is off the county final for the third straight year and a third straight championship game appearance against rival Don Bosco Prep, the two time defending champion. For players like Edert, Freemantle and Earle, who have put in four solid years with the program, it is a last chance to hoist a county championship trophy.
"We are going to go out there and give it everything we have because of how we have lost the last two times we have played in the final," said Edert, who will play at St. Peter's University next season. "This time has to be different. We have to win."