DePaul upsets top seeded Lakeland by Rich Barton of northjerseysports.com
PATERSON – With just three seniors on the roster simpley advancing to the Passaic County semifinals was a lofty goal heading into the season for the DePaul girls basketball team. So when the Spartans did just that by erasing a fourth-quarter deficit to beat Hawthorne in the Passaic County Tournament quarterfinals last week all the pressure was off. However, nobody told senior guard Deziah Gonzalez. Down 11 in the fourth quarter against top-seeded Lakeland, Gonzalez refused to let her team lose and got enough help from her teammates to pull the upset.
Gonzalez scored 14 points in the final five minutes of regulation and Ava Peiser knocked down the go-ahead three-pointer with 1:45 to play as fifth-seeded DePaul toppled top-seeded Lakeland, 49-45, to advance to the Passaic County Tournament final for the first time since 2013.
"We were down but we weren't out," said Gonzalez. "As long as there is time left on the clock we're going to keep grinding. We were down by 11 and the game was slipping away. There was no time to put our heads down, we had to work together and fight our way out of it."
Peiser's early three-pointer tied the game before Lakeland answered with a 7-0 spurt. Keira Marks had five of those seven points, points which were hard to come by for both teams throughout the first half with the Lancers holding a 19-15 lead at the break.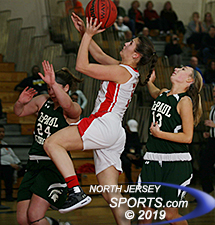 Keira Marks finished with 16 points for Lakeland, which fell to 16-6 on the season.
Behind the defense of Marks and Co. along with the play of senior center Allison McBride inside, Lakeland steadily stretched its lead out to 11 with 5:40 to play in the game, 36-25. That was when Gonzalez heated up and got the Spartans within reach. She scored nine points over the next two minutes before Riley Sikorski (10 points) gave the Spartans their first lead of the game with a three-pointer. McBride answered on the other end to tie the game before Peiser shook off a tough shooting night from the perimeter. She canned a huge three-pointer to put DePaul ahead for good, 43-40.
"My shots weren't going in but I had to stay confident," said Peiser. "I'm a shooter and I had to be ready. I had a little space I just let it fly and hoped for the best."
Just like the previous semifinal though the ending was not lacking in drama. Gonzalez hit some big free-throws to put the Spartans up 6 with 14 seconds to play. Lakeland guard Kaitlyn Collins made it interesting by hoisting a shot from just inside the mid-court line that went in to cut that lead in half with 6.2 seconds left. Gonzalez missed the front end of a one-and-one but somehow beat four Lancer players to secure the rebound. She made good on her second chance with a free-throw to ice the game and send DePaul to its first Passaic County final since winning the title six years ago.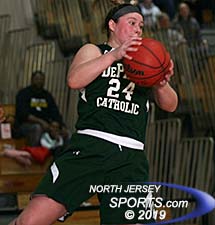 Vanessa Lomakin and DePaul will play defending champion Wayne Valley in the county final next weekend.
After scoring just 25 points over the first 27 minutes, DePaul (10-9) poured in 24 over the final five minutes to pull off a second straight fourth-quarter comeback. Gonzalez had 23 points, five rebounds, three assists, and three steals to lead the Spartans. Marks closed with 16 points and McBride added 12 for Lakeland (16-6).
To win the program's first Passaic title since 2013 DePaul will have to beat the defending champion, Wayne Valley, on its own home court. Having already mustered two huge comebacks to pull upsets this group feels it could be a team of destiny.
"This is where you want to be and we're very happy to have a shot at a county championship next weekend," said DePaul head coach Dave Andre. "It's a matter of the kids working hard and giving everything they have. We're going to need contributions from everyone like we had today. It was a quality team effort and we do not stop play defense. If we work hard like we did today we feel like we'll be in the game and see what happens."