Ramsey goes big in Jambo win over Fair Lawn by Cory Doviak of northjerseysports.com
ALLENDALE – Ramsey's boys basketball team has size, not the 'Big for a Group 2 team' type size, but the kind that makes for mismatches all over the court no matter who the public school opponent is. Senior Sean Hansen is listed at 6-foot-9. Senior Kevin Foelsch is listed at 6-foot-4. Junior Steven Turk is listed at 6-foot-5 and senior Owen Korz is listed at 6-foot-2. Throw in point guard Jaden Quinerly, a junior six-footer, and the Rams can present some problems especially when the retreat into their active 2-3 zone on the defensive end.
"We are long and our wings come out and it probably looks a little different than what teams are used to seeing against a 2-3. We don't play it flat and it is hard to prepare for us," said Ramsey head coach Kevin McGuire. "The pieces of balls that we get; the little deflections that turn into turnovers and run-outs really help us."
After a nearly even first quarter in the Round of 16 of the Bergen County Jamboree on Saturday at Northern Highlands High School, Ramsey's superior size and strength wore down another opponent, this time it was Group 4 Fair Lawn. The Rams won the second quarter by a whopping 20-4 margin and the game by a 58-41 final that puts Ramsey into Sunday's quarterfinal round where it will get a shot at second-seeded Bergen Catholic at Fairleigh Dickinson University.
"We got the No. 7 seed in the tournament, which is good, but we thought we should have been higher and we were just looking to take that out on somebody," said Hansen. "We passed the ball well, we found the open man most of the time and our 2-3 [zone defense] is like our trademark at Ramsey. Are wings are really active, our guards try to make sure that the high post does not get the ball and it really works."
Edwin Muniz tied for team-high honors with 11 points for Fair Lawn.
The first quarter had shootout written all over it as two of Bergen County's best public school teams went back and forth. Ramsey led the whole way after Korz opened the game's scoring with a three-pointer, but Fair Lawn stayed with one or two possessions through the entire first quarter and for the first half of the second.
Fair Lawn trailed 15-12 after the first period and was within five points, 21-16, with 5:46 left in the opening half after Edwin Muniz scored on the fast break. The Cutters were finding ways to make up for the last minute loss of Or Sundjevsky, the 6-foot-4 junior who tweaked his ankle in the waning minutes of Friday's practice and was not ruled out of the game until just about a half-hour before tip-off on Saturday.
"My trainer told me a half-hour before the game that he was not going to play and that changed all the match-ups. I will never make excuses because every team has injuries or illness, but that was a devastating loss. He is our zone buster," said Fair Lawn head coach Kyle Sabella. "We've had the same starting five all season and then to have to make a change like that at the last minute, but all the credit to Ramsey. Hansen is a beast down below, they run their stuff, they are patient, they have good guard play and we have been so successful all season at pressuring and turning guys over, but we just could not do that today."
The game changed for good with 5:16 left in the second quarter when Turk buried a three-pointer to kick off a 14-0 half-closing run that took Ramsey from a five-point lead to a 33-16 cushion and it led 35-21 at the intermission. Ramsey never let Fair Lawn get back inside double digits in the second half and Hansen was the difference maker. He compiled a game-high 30 points for the Rams, which improved to 16-1 on the season.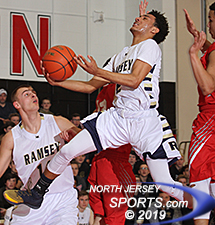 Junior point guard Jaden Quinerly scored all 14 of his points in the first half for Ramsey, which will play second-seeded Bergen Catholic in the quarterfinals.
Quinerly, the point guard who transferred in from Hudson Catholic, was outstanding against the Fair Lawn pressure. He got the ball into the proper hands consistently and scored when he needed to. All 14 of his points came in the first half with the outcome still in the balance. Turk finished with 9 points, Korz contributed the game-opening three-pointer and Foelsch had the other field goal for the Rams, who have
barnstormed their way into the quarterfinals, which are evenly split between four public schools and four non-publics. It will be public vs. non-public in all four games next Sunday at the Rothman Center and Ramsey has an obviously tough assignment against second-seeded Bergen Catholic, which brings its own impressive size to the party with the 6-foot-8 tandem of senior Zach Freemantle and junior Matt Zona.
McGuire is looking forward to the opportunity and the challenge.
"We have a really good team and we are going to stack our really good team up against somebody else's really good team. It's going to be Bergen Catholic and we will see what we can do," said McGuire, whose team is the reigning North 1, Group 2 state sectional champion. "Why not us? Let's make a little Group 2 public into a story. It's more than just being happy to be here [in the quarterfinals]. This is where we are right now as a program. We are fortunate. We have a lot of good players and we want to be in the Jambo. You tell us who to play and we will go do it."
John Burek and Muniz led Fair Lawn with 11 points each and Darius Sohikish finished with 8 for the Cutters who, despite the Round of 16 exit, have plenty of opportunities left to make this a special season.
"We are currently in first place in the league and we have Wayne Hills and Wayne Valley this week. This is a huge week and we are like the third of fourth seed in the state right now," said Sabella, who is in his fourth season at Fair Lawn's head coach. "There is so much to play for and we have to move on. We have been playing great for a while and we will bounce back."