Plescia's free throws seals Old Tappan's quarterfinal spot by J.C. Baumuller special to northjerseysports.com
HILLSDALE – Old Tappan junior Hallie Plescia drained both ends of her second try at a one-and-one with 14.8 seconds to go to give the Golden Knights a late four-point lead en route to a 45-41 victory over Ridgewood in the Bergen County Tournament quarterfinals on Saturday afternoon.
"I knew the foul shots were going to be essential to the win," said Plescia. "When I missed the first one I just made sure I got it back. When I got [to the foul line] all I could think of was I have to make these. I calmed myself down since there was a lot of energy in the gym. I got my head set and I made them."
Plescia turned the first one-and-one she missed into a great play, setting up her final two points of the game. She had gone to the line with 16.2 seconds to go but missed the front end of the one-and-one. She burst forward from the free throw line and grabbed the rebound. Ridgewood had no choice but to foul her again.
"She got the rebound off of it and pulled it back," said Old Tappan coach Brian Dunn. "They were trying to foul her to put her on the line. It's great when a kid knows it's coming and they can step up and do it.
"She's always got her hand around the ball. She hit some huge shots in the first quarter. It's perfect – she hit the first shot of the game and the last two. That's what we needed."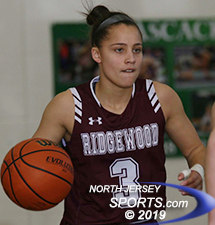 Jackie Wolak scored a team-high 12 points for Ridgewood, the No. 11 seed.
The Golden Knights saw a 14-point lead evaporate in the final four minutes of the fourth quarter. Senior defensive star Noelle Gonzalez scored her only points of the game with a three-point play and junior Gianna Saccoccio drove to the basket to give Old Tappan a 43-29 lead with 4:35 to go in the game.  Ridgewood called timeout and whatever Maroons coach Karen Keyes said to her team set a fire under them.
Senior Jackie Wolak drove and scored and a minute later senior Hagan Gorman cut the Knights lead to 43-34 with a three-point play. Then senior Maddie Sullivan and sophomore Katie McCarthy canned a pair of three-pointers 34 seconds apart. Ridgewood had cut the lead to 43-40 with 1:22 to go in the game.
Old Tappan missed a free throw and the ball changed hands a couple of times until the Knights called timeout with 24.5 seconds left in the fourth quarter. The Knights began to foul the Maroons ball handlers until a shooting foul was called and Gorman went to the line to shoot two free throws. She made one of two, which set the stage for Plescia's game-saving points.
"We've been in situations like that so many times," said senior Megan Weis. "Last year I can't tell you how many times. This year the past five games have come down to the last minute or 30 seconds. It's been crazy so we know what it takes. Coach will call something and we know we have to listen to him because he knows what he is talking about."
"We were on a good run in the third quarter and I guess we got a little flustered as a team [in the fourth]," said Plescia. "It didn't matter – we came back together. We talked it through and got it done."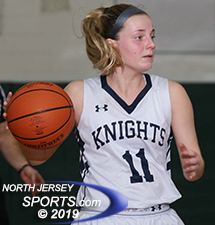 Megan Weis and third-seeded Old Tappan will take on No. 2 IHA in the Bergen County Tournament semifinals next weekend.
Old Tappan grabbed a 16-9 lead in the first quarter as Saccoccio and senior Jackie Kelly tallied five points apiece and Plescia added four. The team defense was solid and it seemed like the Knights got possession of every loose ball.
"We would always get on the ground for the ball," said Weis. "Coach Dunn hammers that into us every day – 'get on the ground for the loose balls.' We have to be the toughest team out there. And I think we did a really good job with that today."
"That's kind of my thing – I just want to get on the ball and keep the ball in our possession as much as I can," added Saccoccio. "I'm not afraid to take a bump or bruise here and there. It's another way we practice: get on a loose ball and tough it out. It shows in the game if we do that in practice."
Dunn appreciated the team's effort, especially Saccoccio's.
"She's been getting better and better every day," he said. "She's improving all the time. She did a great job. I thought they all played well."
The Old Tappan offense went cold in the second quarter so remained within striking distance. Nevertheless, the Golden Knights took a 23-18 lead into intermission.
"At the end of the second quarter we were just chucking up shots," said Weis. "We went seven or eight possessions where we didn't get a good shot because we were just chucking up. At halftime we realized we need to be patient. In the first quarter we had many open cuts because we were patient, we were looking, we were calm. We needed to do that more in the third quarter."
Maroons senior Annie McCarthy swished a three pointer a minute into the second half to cut the Knights lead to two, 23-21. But Old Tappan went on a 13-2 run over the next 3:43 of the game to boost their lead to 36-23.
Weis got it going with a three-point play. Saccoccio followed with a steal and coast-to-coast trip to the basket for a layup. Kelly hit a three and then took a pass from Saccoccio for a drive to the basket. After senior Jackie Wolak, who led the Maroons with 12 points, scored, Kelly drained another three and Ridgewood called timeout, down by 13 points.
"We knew if we took care of the ball and were patient on offense it would be ok," said Weis. "We did that on defense which held them to two and on offense we were screening. Since my girl was hanging out in the paint I would screen for Jackie (Kelly) because she was being face-guarded. Once I ball-screened she would come off and she would either have an open three or hit me for an easy jumpshot."
"It's all about keeping our composure and knowing what to do to get it done," Saccoccio said. "We just have to execute. In situations like that we can't get frazzled, we can't be looking at the scoreboard. We just have to play our game. No matter what is going to happen we're going to do what we know how to do. We're not going to try to do too much; we're going to do enough. We're just going to keep pushing hard, playing the game that is defined as Old Tappan girls basketball."
The Golden Knights move on to play Immaculate Heart Academy in the semifinals next Sunday at Ramapo College.
"We worked as a team," said Weis. "It was really good – we were all screening for each other. Noelle (Gonzalez) and Jackie (Kelly) were face-guarded the entire game. Sometimes it is hard to get them open but they really cut off our screens. We shaped up, we made good passes, we looked for open looks, we listened for coach's calls. And I think we played hard defense so it was a team victory."