Wayne Hills' surprising start now includes a win over Dwight-Englewood by Cory Doviak of northjerseysports.com
MONTVALE – The turnover rate in players and staff that accompanied last year's historic season for the boys basketball program made handicapping this year's prospects almost impossible and the worst guy to ask would have to be the Patriots' head coach Rob Carcich. He basically had no answer when asked if he was surprised that his team is now 9-1 after a 51-36 win over Dwight-Englewood on Sunday in Public vs. Private Showcase held at St. Joseph Regional High School.
"To ask me if I thought we were going to be 9-1 is an unfair question because I did not even know what we had. I got the job so late that I did not know what to expect. When I took the job I didn't even know the kids' names," said Carcich, who was the athletic director at Passaic Valley last year. "I had to learn those first before I could worry about whether we would be 9-1 or not."
Carcich was a late addition and the lone holdovers from the team that won the program's first ever Passaic County Tournament title were Jake Belli and Pulast Thacker, the only two players on this year's roster that played any meaningful varsity minutes a year ago. It was a hasty arrangement, but the results speak for themselves and there is one word that has served as the basis for the relationship.
"The first day that I met him he put the word 'trust' on the board and from that moment on we have just trusted each other and we have built a great bond," said Belli, the crafty senior point guard. "From the basketball aspect, I love his 2-3 [zone] because it is so unique and it brings out the best in us."
The zone that Carcich teaches forces opponents to shoot it well from the outside to have a chance and Dwight-Englewood had trouble finding its range on Sunday. The Bulldogs were held to single digits in each of the first three quarters and never led in the game.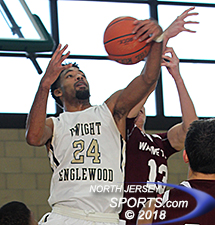 Jordan McKoy finished with 12 points for Dwight-Englewood, which is now 6-3.
"They outplayed us, they out-rebounded us by 20 rebounds after we worked all week on trying to rebound the ball. We have to get better in that area," said Dwight-Englewood head coach Bob Rudolph. "And we shot 13-for-45. You are not going to win shooting 13-for-45. If we could have got some shots to fall we could have made it a game, but we did not make enough of them today."
Thacker made a foul line jumper 28 seconds into the game to give Wayne Hills the lead for good. Thacker hit two free throws and Belli had a three-pointer from the win 2:19 into the game gave the Patriots a 7-0 advantage to start the game. A pair of first quarter three-pointers by JP Lemchak gave Wayne Hills leads of 12-3 and 15-9, which was the score at the end of the opening period.
Dwight-Englewood hung around for the remainder of the first half with two Jordan McKoy buckets keeping the Bulldogs close. McKoy, a senior and four-year varsity starter who has committed to Merrimack College, which will begin its transition to Division 1 next season, got free in transition and scored to make it 17-12 and he made a jumper from the baseline to make it 19-14 before Belli's two free throws upped the Wayne Hills advantage to 21-14 at halftime.
Belli, who took over the point guard spot from his brother Joey (now playing at St. Anselm College), has stepped up and made the transition a seamless one. Jake Belli is the consummate point guard who gets his teammates involved, scores when he has to and controls tempo whether that means slowing things down and pushing the pace.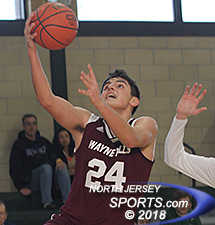 Nebi Ademi scored 12 of his 16 points in the second half for Wayne Hills, which improved to 9-1 on the season.
Jake Belli and Nebi Ademi combined to score 15 of the Patriots 16 third quarter points as they opened up a 37-22 lead after three quarters and when Dwight-Englewood made its last stand early in the fourth, Belli sensed the danger shut it down.
Inside the first minute of the fourth quarter David Mager and Harrison Ruff hit three-pointers that pulled Dwight-Englewood to within single digits at 37-28 with still 7:17 to play. The next time down the floor Belli made the entry pass into the post for Ademi and then cut to the basket. Ademi made the return pass for a Belli layup and, 16 seconds later, Belli turned a Dwight-Englewood turnover into a Euro-step layup on the break to make it 41-28 and Wayne Hills pulled away from there.
"He does so many things that are off script. He is tough to scout and that helps us out at the most opportune times. That is exactly what you need out of your point guard," said Carcich. "The first half was a little rougher than we would like, missing a lot of shots, but a lot of that has to do with Dwight Englewood. They alter a lot of shots because of their length and their athleticism. We only gave up 14 points in the first half, but we were only up by seven. We made a couple of little adjustments, we made some shots and we have Jake, so that helps."
McKoy (12 points) was Dwight-Englewood's lone double digits scorer. Ruff (6 points) made half of the Bulldogs' four three-points and Mager and Judah McIntyre each finished with 5 points. Dwight-Englewood fell to 6-3 on the season, but is still in line for a spot in the Bergen County Jamboree.
"We are all looking for that. The Jambo is one of our team goals and it is everybody's individual goal," said Rudolph. "We want to be back in the Jambo, that is why we play and we have to move on from this one and refocus on our goal."
Belli led Wayne Hills with 18 points and Ademi scored 12 of his 16 in the second half as the Patriots pulled away. Lemchak made two of the Pats' three three-pointers and finished with 7 points off the bench. Brett Wood scored all 6 of his points in the fourth quarter and Thacker scored all 4 of his in the first.
It's been an eventful season already for Wayne Hills, whose only loss was on a buzzer-beater on the road at rival Wayne Valley and it was fresh off a buzzer-beating win of its own when Jason Sanfilippo sunk Fair Lawn with a jumper last Thursday. The Big North Independence Division should be like that all season and the Passaic County Tournament has no clear favorite yet, either. Wayne Hills, despite turning over its whole coaching staff and most of its roster, is right in the middle of everything.
"The basis of everything we are doing is trust. We trust each other, we work really hard and we believe in Coach [Carcich]," said Thacker, the Wayne Hills senior who received the academic achievement award after the game while Belli was name team MVP. "It is a total team effort. Everyone has a role to play and we approach each game that way and play hard."