Ramapo transfers its success into a win at Ridgewood by Cory Doviak of northjerseysports.com
RIDGEWOOD – Transferring into a new school as a senior has its challenges. New friends to make, new school building and staff to get used to and, in terms of sports, there are new teammates and coaches, new uniforms and trying to keep it all sorted as far as rivalries go.
Take Neal Quinn, for instance, the nearly 7-foot tall center who switched sides in the well-established rivalry between Ramapo and Northern Highlands. It has been an adjustment.
"Ever since I was little, we always lost to Wyckoff; always lost to Wyckoff and one of the things I always wanted to do was to beat Wyckoff," said Quinn, who now resides in that very town. "But these are a bunch of great guys. As soon as I came in it was just a brotherhood. There are so many great players on this team, everyone has their own role and everyone does it the best they can. I love going to practice. It is hard, but that is exactly what I needed and I am glad I came to Ramapo."
And Ramapo is happy to have him. With the addition of Quinn, who was averaging right around 24 points per game heading into Thursday night's road game at Ridgewood, Ramapo has gone from a team with the ability to win a section championship to now one that is the prohibitive favorite in North 1, Group 3 and the great public school hope in the upcoming Bergen County Jamboree. In addition to being the team's leading scorer, he is also a deft passer always looking for open teammates and hustling cutters.
"He is so talented inside. If he gets a touch he is going to score or something good is going to happen," said Ramapo head coach Joe Sandberg. "He is averaging 24 [points], but he is a pass-first guy. He is a great teammate, but sometimes we need him to be a little more selfish."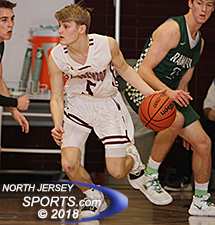 Davis Oscher scored 8 points for Ridgewood, which is now 6-4 on the season.
Thursday was not one of those night's as Quinn worked seamlessly with a well-balanced Ramapo offense, especially in the second half when the Raiders pulled away from Ridgewood, which gave it a go on its own home floor. The Maroons actually led by a deuce at halftime before Ramapo opened the second half with a 12-3 run that turned the game for good. The Raiders doubled up the Maroons in the second half on the way to a 49-35 victory.
"The big thing was that we went five or six minutes without scoring in the third quarter and you can't do that against one of the best teams in the county," said Ridgewood head coach Mike Troy. "So far in our losses we have done that in each of them."
Ridgewood is 6-4 on the season now, but the loss column reads like the North Jersey Power Rankings with Kennedy, St. Joseph Regional, Ramsey and now Ramapo on the list. The Maroons are not that far off the upper echelon and after falling behind 12-4 to start the game, they climbed back in it in the second quarter. While Ramapo made just two field goals in the second quarter, Ridgewood ran off an 8-1 run and Ben Geraghty's runner with 1:08 left in the half tied the game at 19. Bryce Dawkins then got all the way to the basket to give the Maroons the 19-17 lead they took into halftime.
Sandberg is often liberal in his substitution patterns, but he stuck with his starting five for longer stretches and all five of them, four seniors and a junior, chipped in as the Raiders surged in front in the second half. Quinn found Max Pernetti, the junior forward, cutting on the baseline for the basket that tied the game for the last time at 19. Quinn also assisted on John Whooley's bucket that gave Ramapo the lead for good at 21-19 with 6:13 left in the third period. Kyle Hroncich made it a 6-0 run to start the quarter and he was just getting started. The Ramapo point guard scored all 12 of his points in the second half, half-a-dozen each in the third and fourth quarters.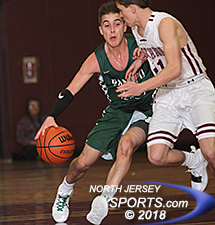 Kyle Hroncich scored all 12 points after halftime for Ramapo, which improved to 10-1 on the season.
"Our game plan is usually to play through Neil [Quinn] and we struggled a little big getting it in there in the first half. The main goal in the second half was to dump the ball inside and play through him. Neil is a good player and we play well off of him," said Hroncich, who made four of his five second half field goals and all four of his second half free throws. "If I have an open shot or an open lane I will take it, but I am happy to just swing it and keep the ball moving. It's awesome [to be the point guard on this team]. I have four other guys in the starting lineup and 14 guys on this team that can all put the ball in the basket and all play hard."
Pernetti's jumper from the elbow and Hronich's take gave Ramapo a 33-24 lead at the end of the third quarter, Quinn opened the fourth with a drop-step layup and Hroncich made both ends of a one-and-one to expand the quarter-bridging run to 8-0 and it ended with the Raiders comfortably in front, 37-24.
Ridgewood got back within single digits at 39-31 on James Miller's baseline layup and at 41-33 with another Miller bucket with 2:43 left in the game, but Whooley, Hunt and Hroncich scored the next six points in succession to make it a stress free final two minutes for Ramapo, which is now 10-1 on the season with its lone loss coming against Rutgers Prep.
All of the Raiders' points came from the starting five as Quinn (14 points), Hroncich (12) and Hunt (10), who went over the 1,000-point career point mark earlier this season, all finished in double figures. Whooley added 9 points and Pernetti scored all four of his points in the third quarter as Ramapo began to pull away.
Ridgewood, which was playing with Devin Johnson (shoulder), was led by Miller's 9 points, Davis Oscher added 8 and Geraghty (6 points) and DJ Sullivan (5 points) combined to score all of their 11 points in the first half.
"We struggled to score and they struggled at times, too. It was a low-scoring game, but what [Quinn] did for them is that whenever they needed a bucket they pounded it down to him. To me that was the difference in the game," said Troy. "I thought we did a good job defending him, swarming him and making him uncomfortable. Tip your cap to him and to Ramapo. I am not upset with how my guys did. We held a very good team to 49 points and if you can do that consistently you are going to win most of them."