Pascack Hills gets the benefit of a win over Old Tappan by Cory Doviak of northjerseysports.com
OLD TAPPAN – One of the best developments in high school sports over the past decade or so is the prevalence of benefit games, especially on the weekends during the winter season. On any given Saturday or Sunday, there are many ways to support a worthy charity, foundation or organization and catch some hoops as well.
It was the Alzheimer's Association that would be the beneficiary of the three boys basketball games played on Saturday in the gym at Northern Valley/Old Tappan High School.
"I have a student named Aaron DeNicola who volunteers his time to the Alzheimer's Association and he asked if he could do a presentation in my class because he wanted to practice. He did an unbelievable presentation and I said why don't we do something together?" said Old Tappan head coach Craig Ferraro. "I told him to get the Association and I will get some teams and together we will try to help the cause."
That meant inviting an old friend back to town and Pascack Hills head coach Paul D'Errico, a former Old Tappan assistant, gladly accepted the invitation. He brought his Cowboys in for the first of the three game set against the host team.
"The first thing that I said when I walked in here was that I missed this gym. I have a lot of good memories from my time here," said D'Errico. "It was all good. I am friends with the coaches and the administrators here and today was an overwhelmingly positive experience, especially because we got a 'W'."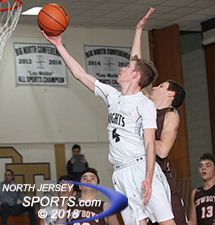 NV/Old Tappan's Luke Conmy led all scorers with 16 points.
That 'W' was a 51-37 triumph over Old Tappan that runs Pascack Hills' winning streak to four straight games and its season record to 8-3 as it tries to chase down a spot in the Bergen County Jamboree after a one-year hiatus.
After giving up the first points of the game to Old Tappan's Jake Piccinich, who made a steal and a layup, Pascack Hills ran off the next 12 points to open a double-digit lead less than six minutes in. Christian Kim's drop-step lay-in gave the Cowboys their first 10-point spread and his putback of his own missed shot to open the scoring in the second quarter pushed the lead back into double digits for good at 14-4. Pascack Hills ran off the first 10 points of the second period and closed it with a Chris Curcio baseline layup that gave the Cowboys a 26-9 at the break.
Rather than having one focal point on offense, Pascack Hills' strength is in the number of players that can put the ball in the basket. No one player dominates with the dribble, but all of the Cowboys can pass catch and shoot. Seven different scorers made at least one free throw in the first half.
"We have some balanced scoring, which I love. We have some unselfish kids. We need to get better at seeing the court and making hard passes, hard cuts and setting hard screens. We are getting there. We are seeing the results. We have won our last four games because of it," said D'Errico. "Defensively we have been pretty strong since the start of the season. Offensively we are getting better for sure."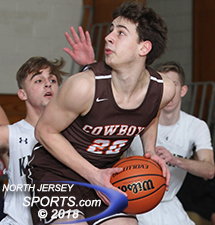 Jason Schulman finished with 9 points for Pascack Hills, which is now 8-3 on the season.
Defensively, Pascack Hills held Old Tappan to just three first half field goal and nine first half points and it was tough for the Golden Knights to make up the ground after trailing by 17 at the half. Luke Conmy scored 12 of his game-high 16 points in the middle two quarters for Old Tappan, but no other Knights made more than two field goals. Sophomore Jon Mangano scored all six of his points after halftime, Picinich (5 points) added a fourth quarter field goal and Mike Spilotros finished with four points. Angelo Mascolo, Rob McGuire and Jason Yo each made a fourth quarter basket to round of the scoring for Old Tappan, which is struggling this season, but is still playing hard and working to right the ship.
"This group of guys that I have works so every single day. They know what is going on and they are not happy with the fact that we are not winning games, but it does not change the way they practice," said Ferraro. "They give me everything they got every single day. When you talk about it from a coach's standpoint, there is not much more I can ask from them. We will keep pushing ahead the best we can and eventually things will turn."
Things have turned for Pascack Hills, which is working towards assuming its former role as being one of Bergen County's premier public school programs. The Cowboys won four straight state sectional titles from 2011-2014 and reached the Bergen County Jamboree semifinals as recently as 2016 under former head coach Kevin Kirkby and are trying to rediscover some of that magic now in the second season under D'Errico.
"Nobody on our team has played in the Jambo, so we want to get there to give ourselves the chance to compete against all of the best teams and best players in the county," said Chris Curcio, a senior and two-sport athlete who was the starting shortstop on Pascack Hills' baseball team that finished No. 1 in New Jersey last year. "We know about the history of the basketball program. We have played against all of the kids from Hills from past years. Two years ago the team made it to the Jambo semis and we play against them all of the time and we are good friends with them."
Kim (11 points) was the only Cowboy to finish in double figures. Curcio, normally a starter who came off the bench as he recovers from a shot to the head he took in a win over Mahwah, scored 9 points, the same total accrued by Jason Shulman. Jacob Morales finished with 6 points, Alex Eusebio and Max Fihma each added 5, Caesar Silvestri made two field goals and Aidan Kehoe's fourth quarter basket rounded out the scoring for the Cowboys.
"I really liked our energy level here today, especially on the defensive end. It was an early game, but we played with energy and we played every possession like it was the last possession of the game," said D'Errico. "I am very pleased with where we are right now. I have a good nucleus of guys that are working on their game and we are hoping to turn Pascack Hills into a basketball school again like it once was. We have the best baseball team in the state, which is awesome, but we want to get the basketball team back up and running the way it was in years past."