Pascack Valley's successful makeover continues with win over River Dell by Cory Doviak of northjerseysports.com
HILLSDALE – Pascack Valley's girls basketball team, using just about the same rotation of talented players, won the Group 3 state title in 2017 and reached the state sectional final last year before having its season ended in a classic championship game against Northern Valley/Old Tappan. The makeup of those teams was such that the rightful expectations were just to play and see how far the Indians could get. The sky was the limit.
Only one player from those two teams, senior 1,000-point scorer Brianna Smith, is back this year in the green and gold, and the expectations, if not the potential, for the 2018-19 Indians are slightly different.
"We are just trying to get better. The long term goal for the season and that short term goal is the same: we just want to be a better team today than we were yesterday and we a better team tomorrow than we were today," said Pascack Valley head coach Jeff Jasper. "Some days the pieces are there and we look like a smooth running outlet, so days it looks like it needs a lot of work."
So far Pascack Valley has served as a gatekeeper. In the Joe Poli Holiday Tournament that it hosts, the Indians lost to both Old Tappan and Secaucus, two teams with the chops to make deep postseason runs that got to add what can only be termed as a quality win to their respective resumes. As for teams that are looking to wrest a league title from the Indians, that is a different story as they beat back their latest challenger, a River Dell team that was on a four-game winning streak, in impressive fashion on Tuesday afternoon.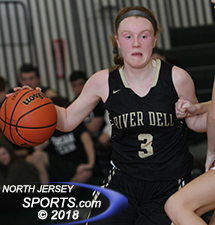 Kaitlyn McKinless scored 10 points for River Dell, which is now 6-2 on the season.
Pascack Valley allowed just three first half field goals and allowed just three different River Dell players to score in the game, a 42-29 victory in Hillsdale that pushed the Indians to 6-2 on the season.
After a slow start for both offenses that saw the first quarter end in a 4-4 stalemate, even a modest spurt by Pascack Valley in the second quarter was enough to give it control of the game. Sofia Battista, who scored all four of the Indians' points in the first quarter, scored the first four points of the second period to take the lead for good. A Kelly Andreasen steal and layup and Smith's fastbreak bucket made it an 8-0 PV run before River Dell was forced into a timeout.
Bridget Cahill came out of that stoppage and made a three-pointer, but those were the only points of the second quarter for River Dell, which trailed 15-7 at the intermission.
"You hold a team to 15 points at the half and you think you are going to be in pretty good shape, but you don't realize that you are only going to score seven. Our shots were just not falling today early," said River Dell head coach Lindsay Steffner. "You are going to have those days where your shots don't fall, but usually we are a better offensive rebounding team and they took us out of that. It's a credit to PV; they did a good job against us."
Smith's three-pointer from just to the left of the top of the key with 1:11 to go in the third quarter put PV up by double digits for the first time at 25-13 and Paige Skene's steal and layup put the Indians up 28-16 heading into the fourth quarter. River Dell crept back to within single digits on Kaitlyn McKinless' three-pointer that made it 38-29 with just over two minutes to play, but that was as close as the Hawks could get as they fell to 6-2 on the season.
Izzy Simon (11 points), McKinless (10) and Cahill (8) did all the scoring for River Dell, which saw its four-game winning streak, which included an impressive independent win over Westwood, come to an end.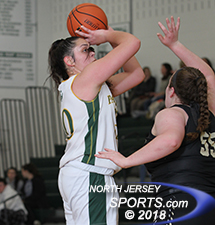 Sofia Battista scored 12 points as a legitimate second option in the Pascack Valley offense.
"I am not going to make excuses. We came out slow today. This was our first four o'clock game and we clearly did not handle it well. We are usually a spunky and gritty team, but we were not that today," said Steffner. "Usually we are on loose balls, we usually pick up a charge here or there and get some offensive rebounds, but we did none of that. We picked it up, we made a little run and got it down to about 10, but we certainly did not do enough."
Pascack Valley is doing enough to pick up wins as it continues its transition. Not only did last year's senior group leave a legacy of winning, they also ate up most of the varsity minutes over the last two years, which means this new group is learning on the fly.
Smith scored a game-high 19 points and Battista (12 points) provided a solid second option in the post, but no other Indian made more than one field goal. Skene, Andreasen and Caitlyn Carlson all finished with three points and Olivia Jones and Ella Giambona each made a free throw to round out the scoring for Pascack Valley.
"I am not disappointed about what we are doing. I have seen us do really good things; I just want to see us do those things a little more consistently. This time of year everybody suffers from a little sickness, everyone is a little lethargic in the post-holiday," " said Jasper. "This was our first game since the Poli [Tournament] and the Poli takes a lot out of us. We played well against Old Tappan and Secaucus, we gave them both a good run, but they were just better than us. Today we had to come back against a good team, a well-coached team and we had to play well. We were able to get the win, I am happy about that, but we still have a long way to go."