Fair Lawn raises its profile with win over Wayne Valley by Cory Doviak of northjerseysports.com
FAIR LAWN – Wayne Valley is one of the teams being talked about in the early season as one that can win the Passaic County Boys Basketball Tournament. The Indians have the talent to match those expectations, but that just illustrates how tough it going to be all season long for road teams in the Independence Division of the Big North Conference.
Fair Lawn, the only Bergen County team in the league, packed its gym on Thursday night, jumped out to a double digit lead five minutes into the game and never trailed on the way to a 56-50 victory over Wayne Valley that significantly raises the Cutters' profile from a team with a chance to make the Bergen County Jamboree to a team that could make some real noise once it gets there.
"We know Wayne Valley is a Passaic County Tournament contender and we all know what kind of coach Joe Leicht is. This is really a bucket-list win for me," said Fair Lawn head coach Kyle Sabella. "This validates us a little bit. We can't get overly excited about it, we are only two games in, but this is a good win in the conference, it is a statement win and I didn't think we were capable of this so early in the season."
Fair Lawn (2-0) does not have a traditional post player that requires touches in the paint. What the Cutters do feature is a versatile starting five of like-sized players that can take advantage of a mismatch when it presents itself. Junior Or Sundjevsky was the first Fair Lawn player to recognize that his defender might not be able to keep up on the perimeter and got the Cutters the early momentum that would basically last for the rest of the night.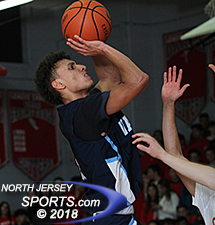 Mark Howell was one of three Wayne Valley players to tie for team-high honors with 11 points.
Sundjevsky won the opening tip and then knocked down the first shot of the game on its first possession. He got a screen down low, popped up behind the arc and nailed a 3-pointer 23 seconds in. After Waken Valley's John Pettorini tied the game for the only time with a 3 at the other end, Sundjevsky scored the next eight points in a row, including two 3-pointers, in the span of 2:45 and scored 11 of his 17 points in the first 4:51 of the game.
"On that first possession we ran a cross screen and then a screen-the-screener to try to get [Sundjevsky] going and then the next couple of possessions I ran plays for him as well," said Sabella. "When I saw their big [guy] guarding Or, my eyes got big and we rode it until they made the adjustment."
By the time Sundjevsky cooled off, Darius Sohikish was just started to heat up for the first time this season. After a rough opener where he was held scoreless on 0-for-13 shooting, the junior wing finally got locked in. His steal and layup 5:06 into the game put Fair Lawn in front by double digits for the first time at 13-3, he made both ends of a one-and-one one minute into the second quarter as the Cutters doubled up Wayne Valley 24-12 and did it again with a coast-to-coast layup that put his team up 32-16 before Fair Lawn built a 34-19 lead by halftime.
"It was hard mentally with the way the season started for me, but I work hard in the offseason and I have to trust my game. First game was not good, I had a chance to change it tonight," said Sohikish. "We are a young team, but we are a talented group and we try to pick each other up. We will stick together and we feel like we can compete with any team we go up against."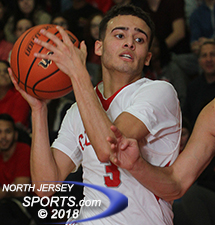 Edwin Muniz scored the final basket of the night for Fair Lawn, which improved to 2-0 on the season.
Up by 15 points against Wayne Valley (2-1) was not exactly where the Cutters expected to be and it was not necessarily a comfortable position to be in. Wayne Valley was no doubt going to make a run and Fair Lawn was sometimes stuck between trying to milk the clock and staying aggressive. The juxtaposition was evident inside the final 40 seconds of the third quarter.
Sundjevsky was held to just two points in the third quarter and had just picked up his fourth personal foul less than one minute earlier. A WV turnover gave Fair Lawn what should have been one final possession, so Sabella put Sundjevsky on the floor to hunt a quality shot. The possession ended in disaster, however, when Sundjevsky was called for a moving screen and fouled himself out with 37 seconds left in the third stanza, which ended with Fair Lawn in front 46-35.
A Patrick Cronin bucket off a baseline drive and dish by Taylor Jackson and then two straight three-pointers by Jackson sliced the Indians deficit to just 46-43 all in the first 2:01 of the final quarter. Sohikish made three baskets over the next two minutes, two on hard drives to the hoop, to keep the Cutters in front. The closest that Wayne Valley would get came on Mark Howell three-pointer with 1:27 left that got the Indians to within 52-50, but John Burek made both ends of a bonus situation at the foul line to double the lead, Edwin Muniz scored on the fastbreak to make it 56-50 and Wayne Valley did not foul in the final 30 seconds as Fair Lawn dribbled out the win.
Wayne Valley had three players – Howell, Jackson and Cronin – finish with 11 points and two others – Anthony D'Arienzo and Pettorini – each finished with 6. Evan Bitterman's first quarter three-pointer ended up being the Indians only bench scoring in the game.
Sohikish (18 points) and Sundjevsky combined for 35 points for Fair Lawn and Muniz added two points in every quarter to finish with 8. Burek made 3 of 3 free throws amongst his five points, Michael Naples added four points and Jamin Reyes and Forrest Ahles split the other two field goals for Fair Lawn, which will try to get to 3-0 on Saturday against Nutley.
"We just wanted to stay composed, keep pushing every play and going hard not matter who we play," said Sundjevsky. "We need to value every possession and keep coming out with the 'W.' That is what we did tonight and we want that to continue."