Ramsey comes from behind again to secure state final spot by Rich Barton of northjerseysports.com
BASKING RIDGE – To become a state champion a team must catch a few breaks along the way, but good fortune does not just happen. It is hard work and determination that results in a team making their own breaks. Facing a one-goal deficit through 70 minutes of regulation in the Group 2 semifinals against upstart Bernards, Ramsey never panicked. The Rams kept working to create their own luck and they found it just in time to save their season.
Marisa McEntee tied the game with 9:04 to play in the second half and Alexa Correa's shot ricocheted off of a Bernards defender and into the side netting just 90 seconds into overtime as Ramsey advanced to the Group 2 state final for the first time since 2011 with a 2-1 victory on Tuesday night at Ridge High School in Basking Ridge.
"We play a tough schedule to prepare ourselves for a game like this," said Ramsey head coach Kevin Sabella. "These girls have bought in since Day 1. It's been two games in a row where we've had to come from behind in the second half but the key was we didn't change anything when we got down. We stayed composed and stayed with our gameplan."
Ramsey controlled possession throughout the first half but as the teams walked to their respective benches the Rams could only look up at the scoreboard in disbelief. Ahjin Yoo sent a cross along the six-yard box and Ella Bogdan was there to finish at the back post in the 35th minute to put Bernards ahead, 1-0, at the break.
The Rams pressed forward in the second half, but could find little room to maneuver until the midway point when shots started going on target. Briana McEntee drilled a shot off the crossbar and sister Marisa nearly had a great volley for a goal in the 68th minute until Mountaineers' fullback Avery Schuler cleared the ball just inches before it bounced into the net. The Rams were undeterred and kept pushing until Marisa McEntee knocked home a free kick from Maggie Haskell with 9:04 remaining.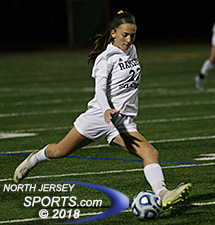 Maggie Haskell's free kick led to the tying goal for Ramsey, which will play Governor Livingston in the Group 2 state final on Sunday at Kean University.
"I thought we were the better team tonight when we played our game," said Sabella. "Hats off to Bernards. They had a strong defense and (Davis) is one of the better players we've seen this season bar none. We haven't been down too often this season but we've been in it now two games in row and we've found a way to get out of it."
That tied the game at 1 and set off a wild finish to regulation. Correa showed some nifty moves along the goal line and her cross along the box was just out of reach of an open teammate at the back post. Less than a minute later it was the Mountaineers who nearly netted the game-winner on a long run and a blast from Makenna Davis, who was a handful for the Rams' defense all game long, that narrowly missed the left post. Then with just five seconds left, Correa split two defenders and nearly ran onto a long ball in the box but it was poked away as time expired and the teams would need overtime to decide who would reach a state final and who would see its season come to an end.
After the ball was deflected out in the Mountaineers' defensive third, Ramsey's Caroline Schwanewede took the throw-in. Correa was originally standing in the middle of the field when Sabella suggested that she to check to the ball. She followed those instructions and did the rest herself. She collected the throw-in then turned and beat two defenders back towards the middle of the field before unleashing a left-footed shot from 30 yards out that was headed towards the inside of the left post. Bernards goalie Susan Oberschmidt got a good jump on it, but just near the top of the box the ball hit the hip of a defender and reversed its course to curve inside the right post as the Rams scored a second consecutive comeback win to reach the Group 2 state final.
"It wasn't my play but I saw some open space so I stepped to it and the throw-in came my way," said Correa, who will play at Monmouth University next fall. "I had a hard time getting my shot off and I wanted to step up in overtime. I dribbled on my left when I saw space I figured I might as well shoot. Got a little lucky there when it went off a defender and went in but I'll take it."
Ramsey has faced its share of surprise opponents throughout the state tournament and will get one more for all the marbles. The Rams will take on Governor Livingston, which is making its first state final appearance in 32 years, on Sunday at Kean University with a scheduled 3:00 P.M. start.
"It means everything for us to get there and for our whole season to come down to one game," added Correa. "From grinding out our last two wins we have a lot of momentum going into the final. We're so close and we can feel it. We're going to work hard and try everything possible to make sure we bring home that title."