Lakeland hits its Marks in semifinal win over PCT by Rich Barton of northjerseysports.com
PATERSON – Lakeland has been as hot as any team in New Jersey recently with a suffocating defense leading the way. The Lady Lancers' 3-2 zone has smothered opponents throughout the past month and that was on display again in the Passaic County semifinals against an athletic Passaic County Tech squad. Leading by five at halftime, the Lancers turned up the pressure in the second half. PCT did not have answer for the zone nor for Lakeland's sophomore sniper Keira Marks.
Marks dropped in a career-high 30 points as top-seeded Lakeland held No. 4 seed Passaic County Tech without a point for the first 7:23 of the third quarter and cruised from there for its 11th win in a row and a second consecutive berth in the Passaic County final with a 45-36 victory on Saturday at Paterson Kennedy High School.
"We reminded them at halftime that we couldn't afford to come out flat. We had to set the tone defensively," said Lakeland head coach Brian Phillips. "We emphasize staying even-keeled throughout the game and playing together."
Passaic County Tech got good shots early on with a three from Jasmine Morgan giving PCT a 7-5 lead when center Da'Shanique Ruffin picked up her second foul and was forced to the bench for the remainder of the half.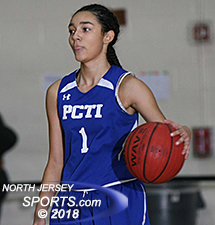 Jasmine Morgan finished with a team-high 13 points for Passaic Tech.
The Lancers started to find their footing in the second quarter. Marks had eight second-quarter points and Amanda Cook nailed a pair of three-pointers to give Lakeland a 25-20 halftime lead.
Team defense is what fueled last year's run to the county final and this season's current winning streak. The third quarter provided just how dangerous the Lancers can be when they are clicking on all cylinders. It was a clinic in teamwork with Sarah Deighan, Skylar Catalioto, and Sammy Jost all forcing turnovers in the first two-and-a-half minutes of the third quarter. Marks was the beneficiary on the offensive end, scoring 11 points in a 14-0 run that essentially put the game away.
"We're not a team that really gets nervous when we have a slim lead," said Marks. "We try to stay calm and play our game regardless of the situation. Our defense really triggers our offense. We're such a close team that shows with the way we play defense and the way we communicate. It's always five of us getting our hands in the passing lanes, five of us talking at all times, five of us boxing out and rebounding."
Sammy Jost and Lakeland will play Wayne Valley for the Passaic County Tournament title on Saturday in Wayne.
Marks has scored 59 points in her two Passaic County Tournament game this year for Lakeland (18-4). She added six rebounds, six steals, and three blocks to her career-best 30 points. Morgan was the lone player to reach double-figures in scoring for Passaic County Tech (16-6) with 13 points.
The Lancers will make a second straight appearance in the Passaic County final on Saturday and will go in as the top seed, but will have to win on the opposing team's home court when they face Wayne Valley at Wayne Valley High School with a 2 p.m. tip-off. Lakeland will be in search of its first county title since 1994 and with five seniors in its seven-player rotation, experience will be on their side.
"It's going to be a great game when we face Wayne Valley in the county final," added Phillips. "We've played them twice and we've split the two games. It will be on their home court, which is an advantage to them. Our advantage is that we've been there and this group has been in a lot of pressure situations. We know them really well and they know us just as well. It's going to come down to who executes and who can make more shots."