St. Joseph speeds up just in time to out-run Ridgewood by Cory Doviak of northjerseysports.com
HACKENSACK – As it turned out, competitive games were hard to come by in the Bergen County Jamboree quarterfinals. Top-seeded Bergen Catholic won by 25 points. Third-seeded Don Bosco Prep won by 21. Fourth-seeded Ramsey rolled to a 17-point victory.
So, unbeknownst at the time, the first three quarters of back-and-forth basketball played between second-seeded St. Joseph Regional and No. 7 Ridgewood was the most competitive stretch of the day-long event played out over 6-plus hours at the Rothman Center on the campus of Fairleigh Dickinson University.
When the two teams went to their respective benches for the break between the third and fourth quarters separated by just a single field goal as St. Joseph Regional was clinging to a two-point lead. When Ridgewood's Matt Favieri made a three-pointer with 7:05 left in the game, the Maroons were down by just a single point and it looked like the lone real upset of not just the quarterfinal round, but of just about the whole tournament, was a genuine possibility.
"Our kids were working hard, but Ridgewood is so good in their half court sets that they were getting the better of us," said SJR head coach Mike Doherty. "We made a slight change. [Assistant coaches] Mark Cieslak and Dan Davis wanted to just extend the defense a little. Full court, but not hard traps just to try to change the tempo a little bit. That slight change kind of jump-started us a little bit."
The strategy worked big time as SJR held Ridgewood to just five points over the next 7:02 and just eight points for the remainder of the game in a 59-49 victory that sends the Green Knights into next weekend's semifinal round against rival Don Bosco Prep.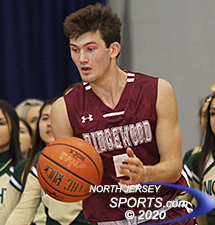 Ridgewood's Matt Favieri scored 13 of his team-high 17 points in the second half.
"Coming into the game we said let it be a four-point game with two minutes to go and if that was the case, with the resiliency our team has shown over the past month, I like our chances," said Ridgewood head coach Mike Troy. "But I tip my cap to them. They made a lot of athletic plays in the last four minutes of that game that made it difficult for us. Any rushed shot that we took, they scored on the other end. Anytime we got just a little bit too fast it was a turnover and they scored on the other end. Easy baskets at the end were the difference in today's game."
It was Nazir Williams' 'alley' to Daniel Lans' 'oop' for the first points of the fourth quarter that really raised the Knights' energy and it was a 32-second span shortly after that made the biggest impact as, just after Favieri cut the deficit to one, Ansley Almonor made two free throws to stretch the Knights' lead to three. and then Williams doubled it with a three-pointer from the wing with 6:16 to go in the game.
It was a memorable day for Williams, who scored the 1,000th point of his career on a drive to the basket early in the second quarter and then got his picture taken with the most famous of St. Joe's alums, the NFL's McCourty twins, Devin and Jason.
"I would be lying if I said I was not thinking about [scoring point No. 1,000] because I knew I only needed two points coming in. Once I got it everything kind of got into a flow and you can see what we can do when we are shooting on all cylinders," said Williams, a senior. "Once we ran that [alley-oop] play we knew we turned the tide. We went from regular to extraordinary."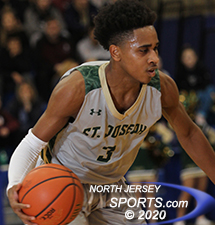 Daniel Lans' dunk to open the fourth quarter provided a spark for St. Joseph, which will play Don Bosco Prep in the semifinals next weekend.
Almanor hit a three-pointer from the corner to put SJR up 50-43 with 5:25 to play, but Favieri was able to keep the Maroons afloat. Max Gieselmann made a three-pointer with two seconds left in the game and with the outcome already decided, but it was Favieri who scored the other eight fourth quarter points for Ridgewood.
Albert Serrano's putback gave Joe's a 52-43 lead with 4:44 to go before Favieri hit the last of his three second half three-pointers and the Maroons' last meaningful field goal to make it 52-46 with 3:55 left, but SJR responded with a 7-0 run to put the game away.
All but two of the 108 points scored in the game were attributed to the respective starting fives. Malcolm Capers' third quarter field goal gave SJR a 2-0 edge in bench scoring. Favieri finished with a team-high 17 points and him, Devin Johnson (15 points) and Gieselmann each made three of Maroons' nine three-pointers. Tristan Wennersten and Jared Powers evenly split the other 8 points for Ridgewood.
Williams' 17 points led St. Joseph and Almonor (15 points) and Lans (13 points) made it three Knights in double figures. Dyree Rogers finished with 7 and Serrano added 5 for SJR, which will now head to the Final 4 and the showdown against Bosco on Saturday at Hackensack High School.
"We are glad to be here. Don Bosco is probably playing the best of any of the teams in the county right now. They are playing excellent basketball right now," said Doherty, who won the 500th game of his career earlier this season. "We have split the two games that we have played, the kids know each other well and we are going back to Hackensack High, the old stomping grounds of the Jamboree. That should be fun."