Tenafly's win in Demarest does not come easy by Cory Doviak of northjerseysports.com
DEMAREST – Tenafly had high expectations coming into this season with a senior-heavy team, while Northern Valley/Demarest is undergoing a complete makeover after winning a state sectional title last season. They are in different stages of program maturity, but what they had in common on Thursday night was that both needed a win to get their seasons back on track in their first games of the New Year.
Tenafly came up on the wrong end of two buzzer beaters in the first two weeks of the season and its record was underwater at 2-4 as it travelled north up Knickerbocker Road to visit Demarest, which had just one win to show for its efforts as it retools with a new head coach and just about a complete roster changeover.
After sophomore point guard Aiden O'Connor scored off a turnover, Demarest was within a single point with 1:37 left to play in the game.
"It has not been easy. Every game this season for us has been just like this. The losses we have had have been devastating, two of them at the buzzer against Westwood and Dumont," said Tenafly head coach Jeff Koehler. "For the seniors, they come into the season thinking, 'OK, this is our year,' and it has not gone as planned. It has been a gut check and we had another one here tonight."
Senior Dennis Kardonsky certainly showed some guts down the stretch. Tenafly's senior point guard, having scored just five points through the game's first three-and-a-half quarters, scored 10 of his team-high 15 points in the final 4:34 of the game, made 6 of 8 free throws in the final 2:48 and came up with a huge steal with 48 seconds left as his team clung to a two-point lead. Kardonsky scored five points in a game-ending 8-2 run that gave Tenafly a 55-48 victory that pulled it back to within a game of .500 with a 3-4 record.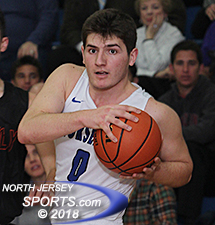 Demarest senior Nick Argenziano finished with a team-high 15 points, including three 3-pointers.
"Every game we have played has gone down to the wire and it comes down to defensive stops and making free throws. Honestly, I did not feel any pressure because I work on free throws every day in practice, and I was not worried when I went to the line," said Kardonsky, one of Tenafly's eight seniors. "Our team is good. We have a lot of shooters and everyone knows their roll. What I need to do to help us win is to control the offense and not turn the ball over. When we have good possessions and we think everything through, we score almost every time."
Tenafly looked like it had taken control of the game a whole lot earlier when Johnny Angbazo made 5 of his 6 free throw attempts in the final 2:46 of the first half to cap a 10-2 run that gave the Tigers a 29-22 lead at the break which was extended to nine points when Elon Levy opened the third quarter scoring with a steal and a layup.
Any thoughts of putting the Norseman away, however, we put to bed when Nick Argenziano made a three-pointer from the corner to kick off a 14-2 Demarest spurt that ended with a John DeCroce bucket in transition off an Isaac Oliff-Liberman feed and a 36-33 lead for the home team midway through the third quarter.
"We are in every game we are playing outside of two. Our record does not indicated how well we have been able to play in spurts and we had a good one there in the third quarter," said Kevin Grimes, who led Wayne Hills to its first ever Passaic County Tournament title before taking the head coaching position at Demarest this season. "We are starting to put it together and it is my job to push us over the line. We had a shot at it tonight."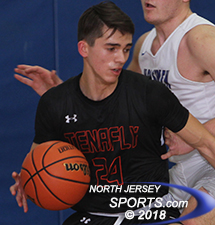 Eric Berschadsky (11 points) was one of three starters to finish in double figures for Tenafly, which improved to 3-4 on the season.
Oliff-Liberman's three-point shot with three seconds left in the third quarter gave Demarest a 40-39 lead heading into the final period and the Norsemen trailed by just a single point on three different occasions in the fourth quarter — 44-43, 47-46 and 49-48 — the last time on O'Connor's runner off a turnover, but it was right about then that Tenafly's varsity experience began to shine through. Kardonsky made the front end of a one-and-one with 1:25 left and, after missing the front end on Tenafly's next possession and after a Demarest timeout, Kardonsky got steal at midcourt that foiled Demarest's last chance to tie or take the lead.
"I remember Elon [Levy] was guarding their best player [DeCroce] and our game plan was to deny him the ball the whole time," said Kardonsky, speaking of the steal that turned the game in Tenafly's favor for good. "We pressured the ball when he caught it and forced the pass. I was able to get in the passing lane and pick it off."
Kardonsky nailed both ends in the bonus with 22 seconds to go to make it a two-possession game and all but end the festivities. He scored 10 of his team-high 15 points in the final quarter and finished as one of three Tigers in double figures with Angbazo and Berschadsky each added 11 points. Levy (9 points), Alon Aboodi (6 points) and Shai Yona (3 points) rounded out the scoring for the Tigers, who have steadied the ship, at least for now.
"We are hoping to go on a little run here. We have learned a lot and we have been getting better every day. Dennis is getting better at running the offense, Eric and Elon are hitting their shots and helping others get open with screens," said Angbazo, a three-year starter. "Senior year now and I just want to give it all every game. I have been playing with these other seniors since like third grade and it means a lot for all of us to go out there and give everything we have every time out."
Demarest (1-6) is similarly bought in; it just has not shown up in the win column just year. Having lost all five starters and 8 of the 10 players in its rotation from its postseason run last year, the Norsemen are battling to get up to speed. Nick Argenziano (15 points) and DeCroce (9 points) are the only two players that saw meaningful minutes last year. O'Connor (10 points) was the point guard on the freshman level last year and everyone else is up from the JV. Two of those players, Oliff-Liberman and CJ Guzman, scored 7 points each on Thursday night.
Demarest is on the verge of putting it together, but Grimes knows it has to happen soon.
"Our record is what it is right now and 1-6 says bad team with bad coaching, but the truth behind that fact is that we are young, not in terms of grade level or how many senior we have, but the minutes logged that this group has together, let alone on the varsity level, is so insignificant," said Grimes. "We are coming; it is just a matter of what we can accomplish. Can we sneak into the state tournament after a 1-6 start? The Jambo right now is probably out of the question, but who knows and there is opportunity out there for us. It is my job to get them to continue to believe."