Isaackedes is at it again as PV blanks Demarest by Cory Doviak of northjerseysports.com
DEMAREST – It is a good thing that Alex DeRosa, Frankie Cascio and Ricky Lutz got to bat a combined total 12 times, because had the Indians' offense not kept turning the lineup over at a rapid clip, Pascack Valley's three starting outfielders would have had little to do. Defensive work for those playing on the backside of the infield dirt is hard to come by when Jordan Issackedes is on the mound.
In his first ever no-hitter at any level last week against Tenafly, Issackedes did not allow a single fly ball to reach the outfield grass. In his encore on Monday on the road against Northern Valley/Demarest, Issackedes went 4 1/3 innings before allowing one of his outfielders to record an out as he backed up his no-no with another dominant effort, a one-hit shutout that ended after six innings. By pounding out 18 hits and playing error free defense behind Issackedes, Pascack Valley (5-1) posted a 12-0 win, its fifth in a row.
"Jordan runs the ball down, he has a good curve, he has a good change and he throws his fastball to spots. He is keeping the ball down and he is throwing strikes," said Pascack Valley head coach Will Lynch, whose team has not lost since Opening Day. "We are playing good defense, so he doesn't feel like if he gives up a hit or walks somebody that he doesn't have to come back and strike everybody out. He has figured out what works in high school baseball."
It also has helped Issackedes is that he is quite often working with a lead. Pascack Valley, with six senior starters back from last year's team that went 15-11, won a game in the Bergen County Tournament and reached the North 1, Group 3 state sectional playoffs, is using its experience against opposing pitchers. Three hits in the second inning by Jack DeVanna, Carson Weis and Justin Martin got the Indians on the board first and they never let up.
Pascack Valley batted around in the third inning and scored four times, added three more runs in the top of the fourth and 13 hits in those first four innings to take an 8-0 lead.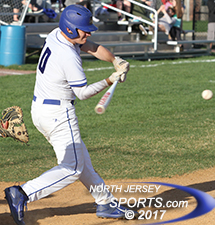 Nick Argenziano had the lone hit for Demarest, which had won four of its last five coming into Monday.
"Today is just one of those days that you just have to tip your cap to your opponent," said Demarest head coach Marc Houser. "They are good. They can swing it and they pitched very well today. When you can combine those two things at any level of baseball that is the name of the game."
That first inning run that was knocked in by Martin's single up the middle as it turns out would have been enough for Issackedes, who allowed a clean two-out single to Nick Argenziano in the first inning and then just about nothing else. He retired the next five hitters he faced before hitting Dan Baroni with a pitch in the bottom of the third. He walked Argenziano (1-for-2, BB) to start the fourth inning but then got a 4-6-3 double play started by Frank Criscuolo and turned smoothly by Martin, the sophomore shortstop.
The closest Demarest came to getting its second hit came in the bottom of the fifth when pinch hitter Stefan Ayanian whacked one to the opposite field, but Lutz, the leftfielder, ran it down just a step or two in front of the fence. Tyler Stimmel, who was hit by a pitch with two outs in the sixth, was the only other baserunner that Issackedes (6 IP, 0 R, 0 ER, 1 H, 8 K, 1 BB, 2 HBP) allowed.
An accidental ace when he was thrust into the role last season as a sophomore, Issackedes has blossomed into the real thing. He beat NV/Old Tappan in his first start of the season and in his last two, covering 12 innings, he has allowed one hit, two walks and zero runs. Against Demarest he threw first-pitch strikes to 16 of the 22 hitters he faced and needed just 69 pitches to get through the six innings.
"Lynch has been telling me all year just to get up there and pound the zone, to throw strikes and that is what I am trying to do," said Issackedes, a junior righthander. "The no-hitter [against Tenafly] was crazy. I didn't even know I had it until it was over when my friend Jake Klag said, 'Wow, you just threw a no-hitter.' I have never thrown one before and I just wanted to carry that feeling over into today."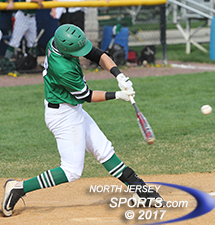 Frankie Cascio had one of Pascack Valley's six extra base hits, a home run to leftfield leading off the sixth inning.
He did and Pascack Valley is doing it in all three phases of the game in the midst of its current five-game winning streak. Issackedes was efficient in going the distance, the defense was air tight and every spot in the lineup reached base at least one. PV moved runners when necessary and hit for power with five doubles and a home run, a sixth inning blast by Cascio.
"I have played with most of these guys since I was seven years old and we have always swung. We love to hit and coach always reminds us to hit line drives, to hit the ball down and hard. When you put the ball in play good things happen," said Cascio (1-for-3, HR, 2 RBI, 2 R), who has accepted a scholarship to play at Quinnipiac University next season. "We have faith in every guy in this lineup. Everybody hits, so if you make an out we all have the confidence that the next guy is going to pick you up."
Matt Novakowski (3-for-4, 2 RBI, 2 R, 2 2B), the senior catcher hitting in the leadoff spot, Alex DeRosa (2-for-5, 2 R), Jack DeVanna (4-for-4, 2 RBI, 2 R), Weis (3-for-4, RBI, R), Austin Piorkowski (2-for-4, 2 RBI) and Martin (2-for-4, 2 RBI, R) all had multi-hit games for Pascack Valley.
Demarest, after starting the season at 1-2, went 4-1 last week to kick start its season and has plenty of motivation for Wednesday's rematch, which will be played in Hillsdale.
"The kids are playing hard. We had a trip [to Maryland] last Saturday, we got home last Sunday and then went out and won four of five games last week, but today was the day to move forward and it was a rough one for us," said Houser. "This is a back-to-back series, we have to be ready to go for Wednesday and I just told the guys that they better be hungry to get back at it and I think they will be. This is a good group."